Autumn
« Previous Entries
Saturday, June 3rd, 2017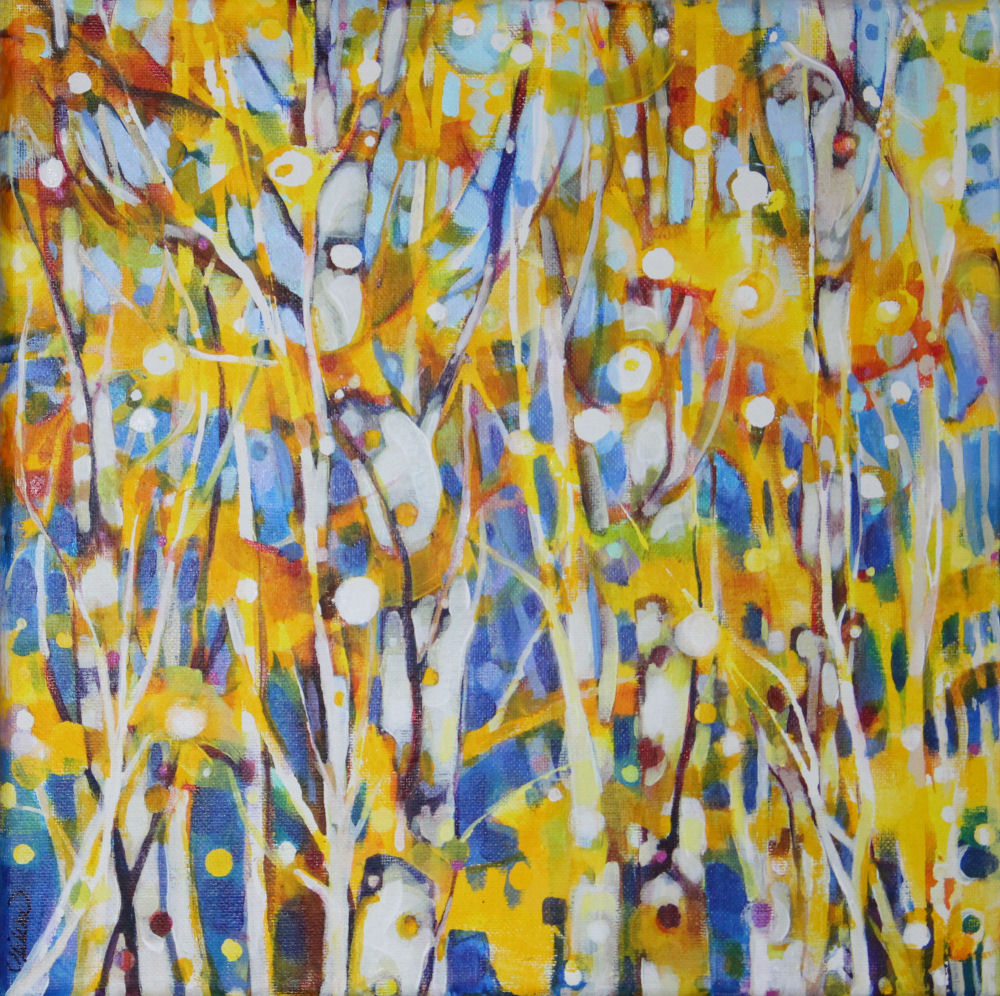 First Snow 02, 12 x 12 inches acrylics on canvas
Entry for The Square Foot Show in Bismark, ND on August 1st – 25th, 2017
Saturday, February 11th, 2017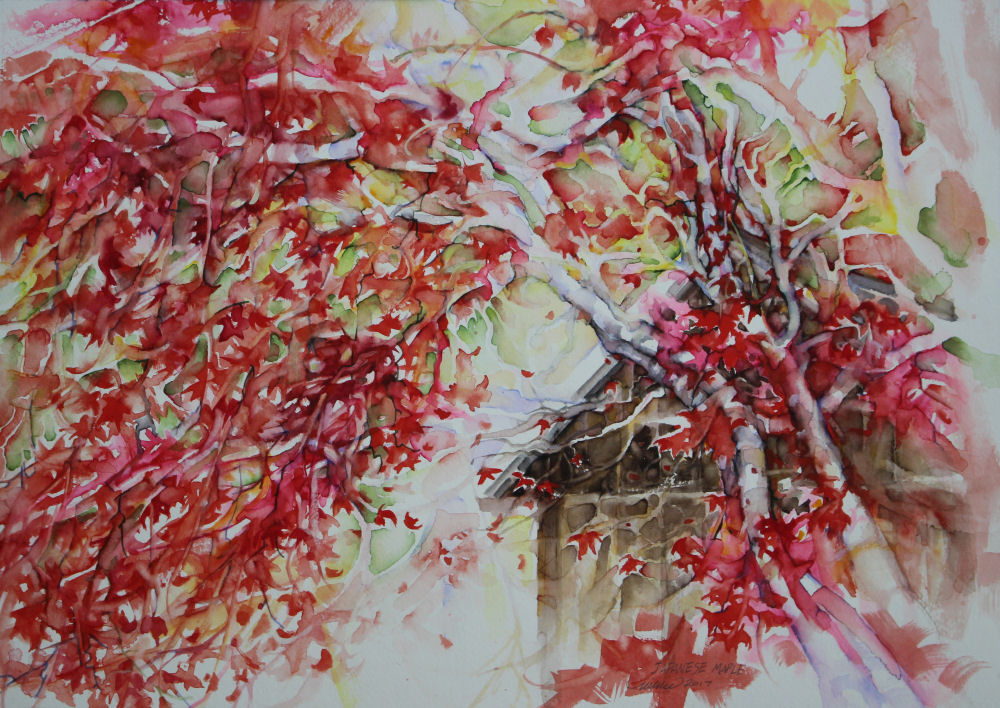 Japanese Maple, 20W x 15H inches watercolors on 140 lb. cold pressed premium. Details:
Tuesday, November 13th, 2012
---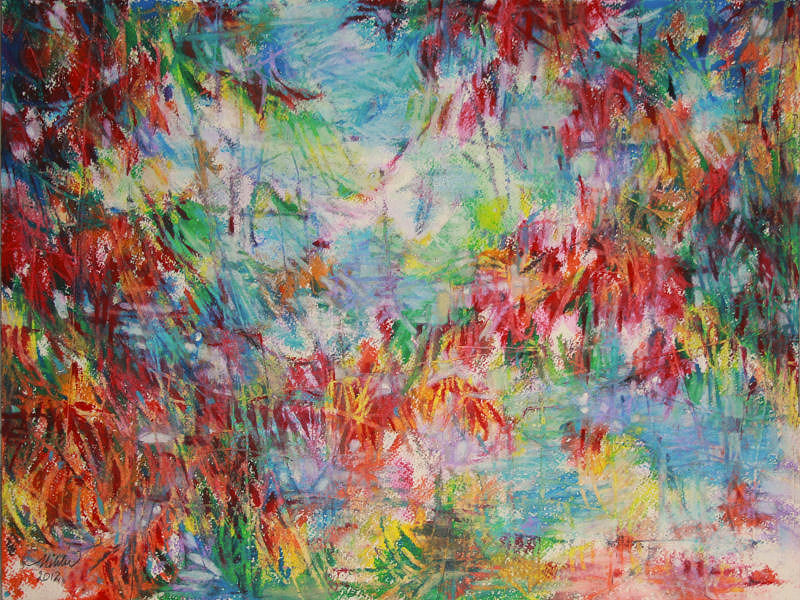 Sumac Bushes 12H x 16W inches oil pastels on 140 lb W/C paper
This piece has a base of watercolor crayons, which I hadn't heard of before and was excited to try. With expectations to complete a piece today, I wasn't too impressed that the rough crayon color marks remain on the page, and the colors and solubility are weak. With more experience, those properties might be used to advantage, but not without an open frame of mind toward experimenting. Because of this, oil pastels are layered on top, then scratched away using fingernails and pottery tools.
---
$250.00 mat               

$550.00 framed          

---
Sunday, November 4th, 2012
---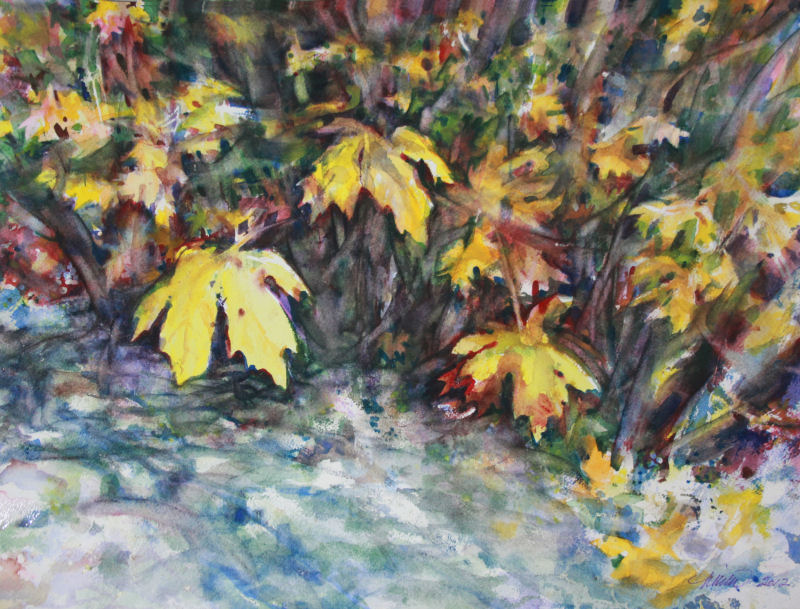 Big Leaf Maple near Port Renfrew, Vancouver Island, BC Canada, 12H x 16W inches watercolors on 140 lb 100% cotton paper
---
$250.00 mat             

$550.00 framed        

---
Tuesday, May 5th, 2009
---
Sumac Bushes, 47H x 22W x 16D inches refurbished directors chair, acrylics on canvas. Four cropped pieces of the 1999 painting that inspired this chair hang above it, updated and framed red; the chair and small paintings are a set.
Friday, March 20th, 2009
---
Branching Out and Conifer, each 6H x 6W x 2D inches Encaustic, side surfaces also done.
Encaustic is designing/painting with beeswax. I'm not usually intimidated by trying any new medium, but wax is so unique and there are so many possibilities for it, I was a little overwhelmed when I took an introductory course with Deanna Wood. She offers her students workshop days where they can use her supplies to continue experimenting with the medium. Although I'd love to have my own supplies to work at home, the encaustic process is so messy, not to mention expensive to get started, so that is a generous offer.  Today's studio work produced 4 small encaustic paintings, and 2 are successful. Compared to other media, wax is so versatile it can be scraped off to whatever degree, reworked, layered, carved and manipulated as much or as long as you wish. It's a lot of fun!
---
$100.00 each           

---
Wednesday, March 4th, 2009
---
Sweetgum Seed Pods, 11 x 11 x 3 inches acrylics on canvas, wrapped sides painted.
---
$350.00           

---
Saturday, February 14th, 2009
---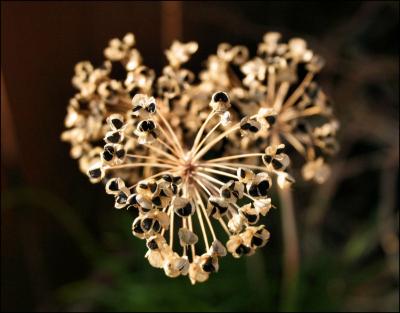 Garlic Chive seed head, heart-shaped growth
Tuesday, January 6th, 2009
---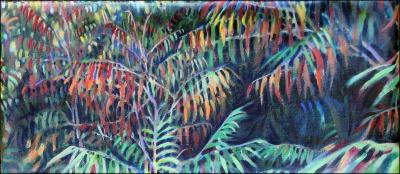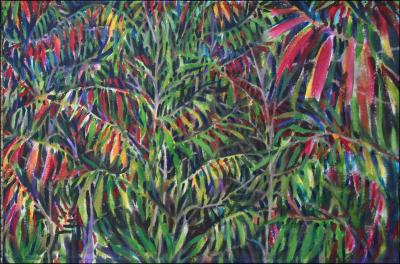 Sumac Bushes director's chair started. Back and seat of 47H x 22W x 16D inches acrylics on canvas, will be varnished. Up-cycled tall wood director's chair, work in progress, functional art. The wood will be painted a cherry color.
Monday, September 22nd, 2008
---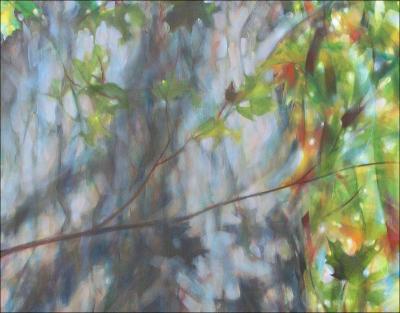 Shadows of Summer, phase 7 work in progress, 60H x 40W x 3D inches acrylics on canvas. Today's work, above:  Played with color/gel washes and studied the painting a lot today, judging what needs to be changed and what should be left alone. The right side of the trunk needed definition but not with hard edges. The leaves may still too bright with that tell-tale acrylics look, which I seriously don't want. There was extra paint on my palette, so I pulled out 'The Fourth of July' and started in on that one again; may only paint that one tomorrow and set this one aside to study for a while before making any more marks. It may even be finished; put out of sight for a while I will know at a later date.
September 21: Phase 6, started gaining more confidence with the trunk and some of the motion via abstract that I'm searching for. After a lot of work softening shadows and contrasts on the trunk by adding and removing color, the leaves now need more definition and depth.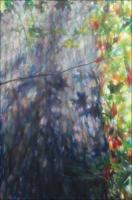 September 18th post, right detail image: The upper bark is quite pink, keeping it on the same plane
as bright leaves on the side, so am building up the layers of color. Also just started to pay with space implied by streaks of color and washing out areas, see detail, right. The painting may become subtly cubist. Also still hoping a more unique title hits me while working!
« Previous Entries