Alberta
« Previous Entries
Monday, November 12th, 2012
---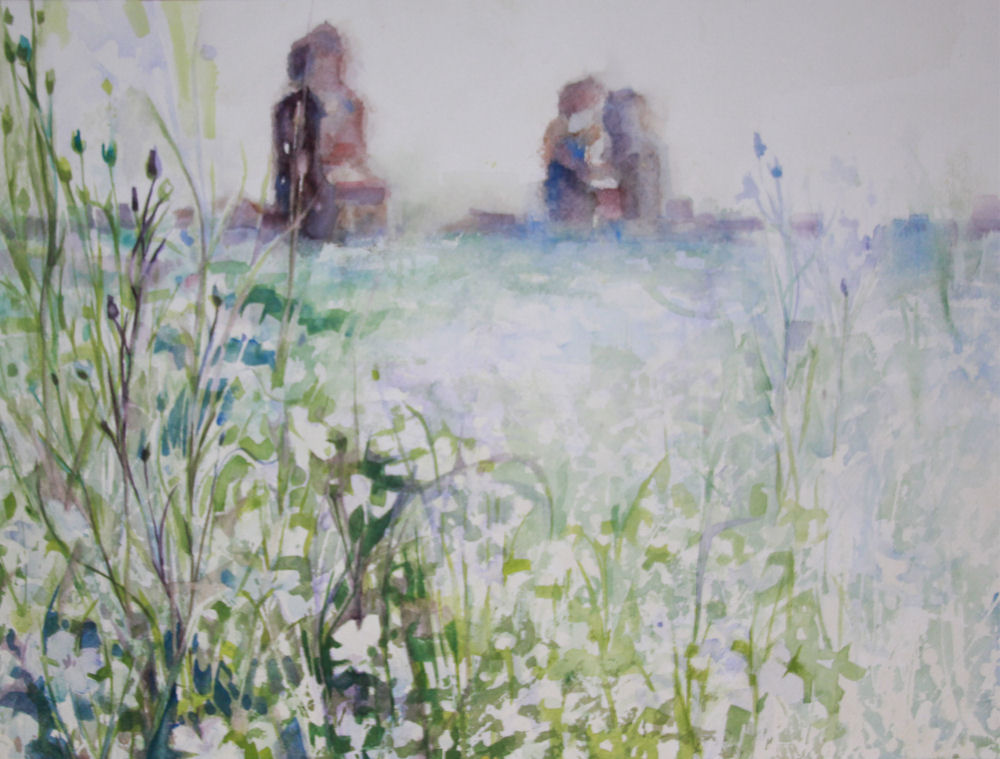 Fields of Flax, Rowley, Alberta Canada,  12H x 16W inches watercolors on paperpreliminary study for larger acrylics painting
Thursday, February 25th, 2010
---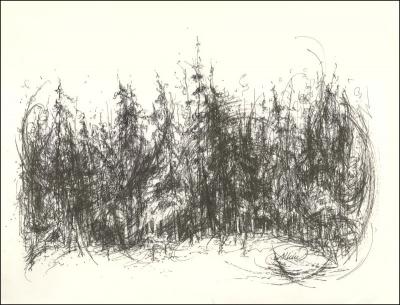 Marie Lake campsite, Alberta, 8 x 10 inches pen on paper
Friday, February 5th, 2010
---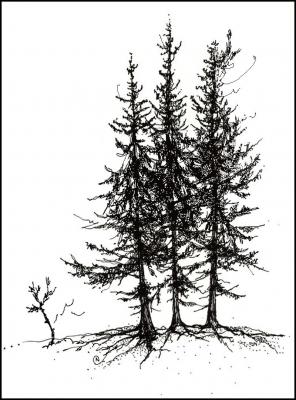 Alberta Spruce, pen and ink, digital pen
Friday, December 25th, 2009
---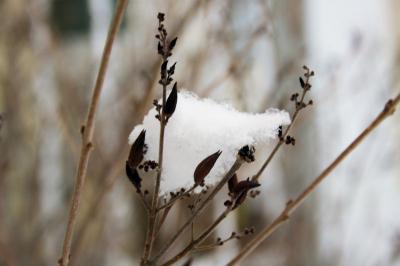 Merry Christmas from Airdrie, Alberta
Snow on French Lilac
Check out the Alberta/Texas phone interview for a pull-out feature in today's Denton Record Chronicle.
Saturday, February 28th, 2009
---
Bird's Eye, Banff, Alberta, Canada, 11H x 11W x 3D inches acrylics on canvas, wrapped sides painted. Signed on the side, so a signature is superimposed on the front. March 3rd: above,  February 28:  thumbnails below
---
$350.00           

---
Wednesday, February 25th, 2009
---
Jack Pine, 11H x 11W x 3D inches acrylics on canvas and detail of right side; all sides painted. Signature is on the side, so one is superimposed here on the front.
---
$350.00           

---
Sunday, December 7th, 2008
---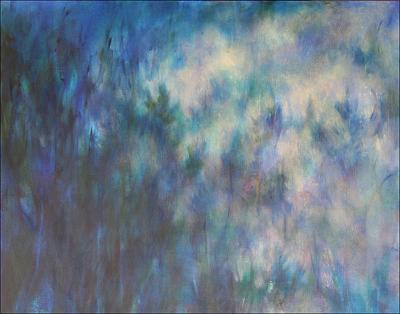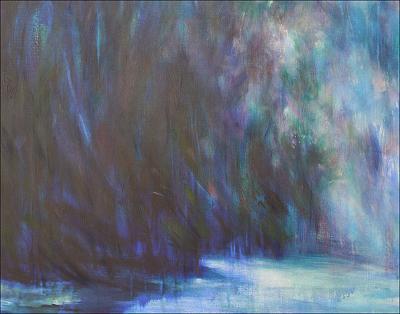 Approaching Winter finished today,  60H x 40W x 3D inches acrylics on canvas. More contemporary than my usual work, thought I'd try a new approach to painting…with more attention to editing rather than overworking. Shown in two detail images above, and full view shown in right thumbnail. Large paintings don't show as well on computer screen, so there are two detail images that were sharpened 2X to reveal the actual texture as it is close up. Post-dated note: on exhibit at Oxide Gallery in Denton TX until February 28th, 2009.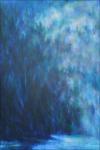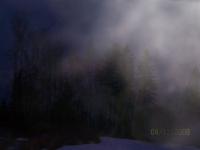 Dec. 6th: Colors mixed with matte medium: Ultramarine, Pthalos Blue, Prussian Blue, Cobalt Blue, Pthalos Green, Sap Green, Unbleached Titatium, Alizarin Crimson and Cadmium Red Deep, Mars Black (rarely use black). This morning I scrubbed and washed away a lot of paint in areas then reapplied more. Trying to stay with the less is more principle. Hope to wrap this one up by the end of the weekend if not before.
Dec. 5th: Stage 1, first coat of Ultramarine Blue and matte medium, very watered down, then applied thick in places. Inspired by photos taken by my good friend Ray Muskego in my home town, Cold Lake, Alberta during sunrise December 4th as misty fog drifted off the lake.
Wednesday, July 30th, 2008
---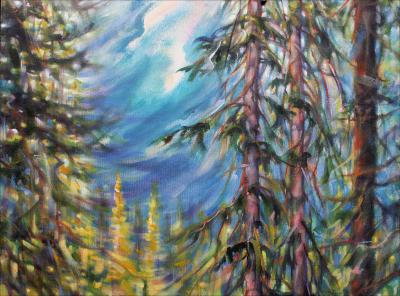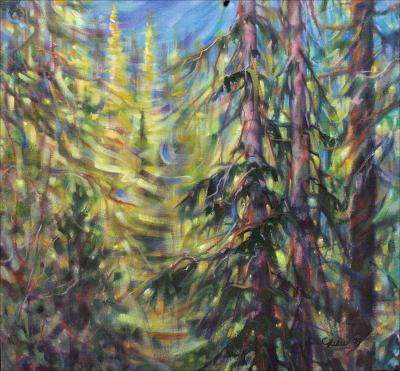 Started April 7th this year, Rocky Mountain Vista received a face lift this week before I brought it in to be judged for a local exhibition. There are subtle but positive improvements compared to when I posted it as finished on April 13th. Progress can be reviewed on the April 9th blog post. It is now well and truly finished!
Saturday, January 12th, 2008
---
Takkakaw Falls, Yoho Valley, B.C.  830 feet high, said to be the most impressive waterfalls in North America next to Niagara. 12 x 9 inches graphite, watercolors, based on antique Vandyck photos of the Canadian Rockies.
---
$25.00 Set of ten 4 x 6 inch signed cards with envelopes          


---
Friday, January 11th, 2008
---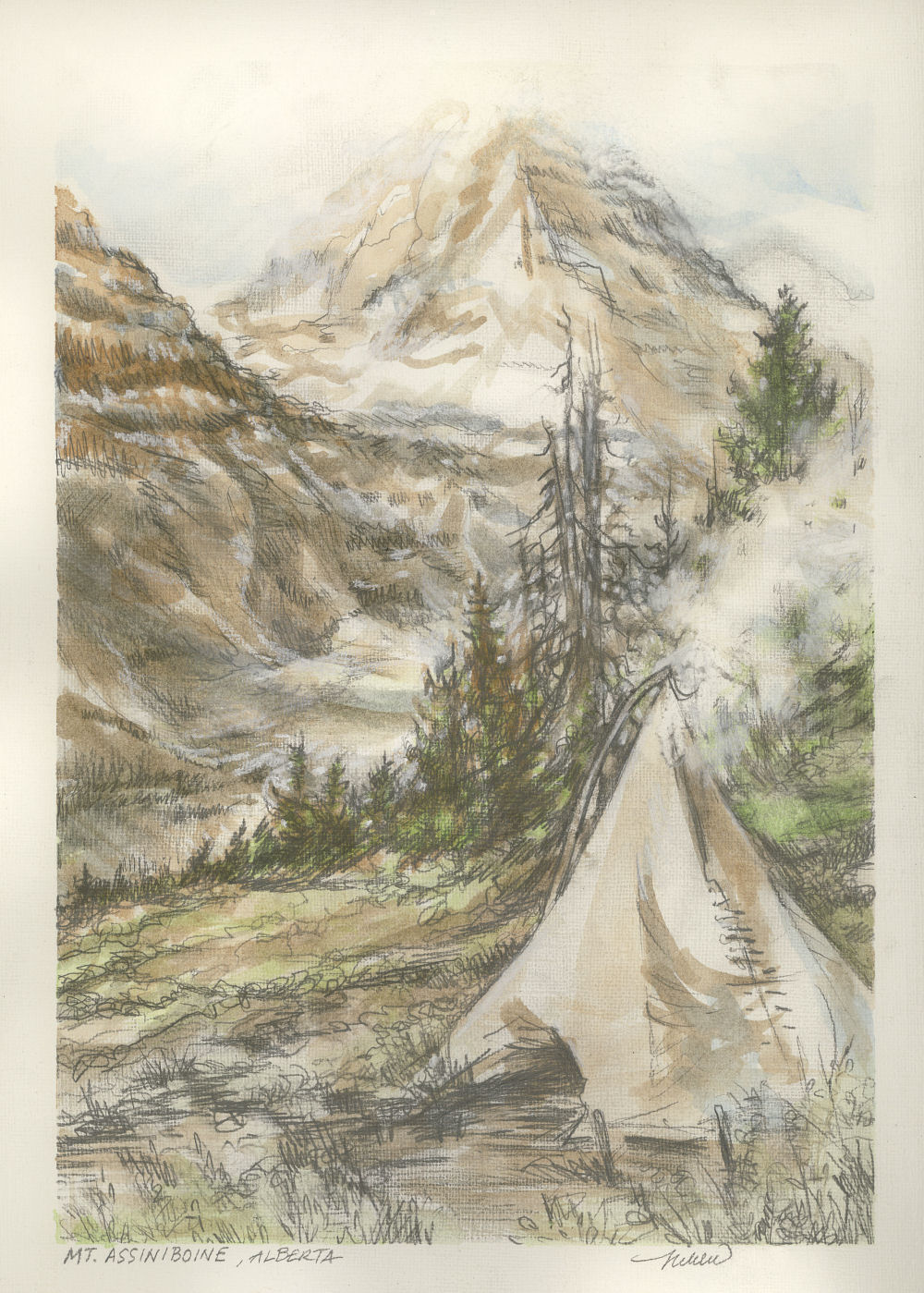 Mt. Assiniboine, about forty miles southwest of Banff, Alberta. 12H x 9W inch watercolor and graphite, study only.
Available as set of ten signed 4 x 6 inch signed cards with envelopes.
I inherited some charming antique books of hand-colored "Vandyck Photogravures" of Canadian Rocky Mountains scenery as it was at the turn of the twentieth century. The monotone sepia and few other pale colors add such a warmth to the already beautiful scenery in the 1910 photographs, and since I haven't tried watercolors for years I thought they would make perfect studies.
---
$25.00 Set of ten 4 x 6 inch signed cards with envelopes        

---
« Previous Entries