Archive for May, 2016
Tuesday, May 24th, 2016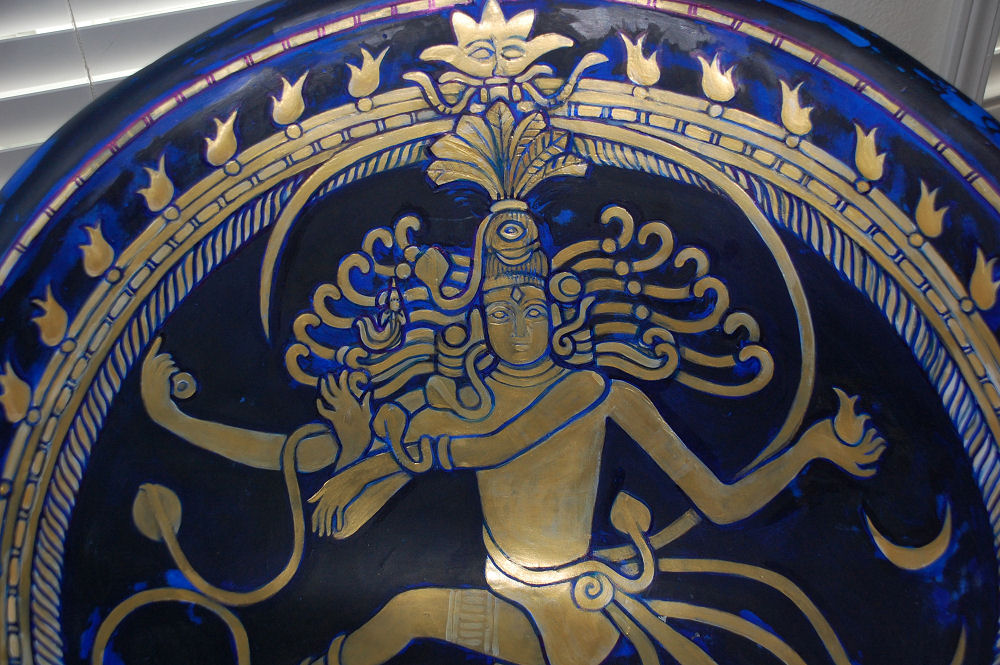 The extra time working on each the Shiva, Lord of the Dance and Moche Earplug replica chairs means 1) increasing familiarity with the authentic originals, and 2) layers of color and contrast add patchy timeworn impressions which might not have otherwise occurred. 
The Shiva statue design is so complex, in retrospect it might have been enough to paint it on a flat surface, like the Mayan Bowl replica chair. Certainly it would have been easier and might be finished by now, but in artwork, I am not always necessarily seeking the easiest way through. Ease is usually the result of something already learned. The point is to discover how to do something, learn how to resolve issues that are presented and/or self-imposed, and the energy is driven by those challenges.


While staying true to the original concepts, I also applied artistic licence since the chairs are unique interpretations in their own right, so some of the designs are improvised slightly, like the ring of fire around Shiva, and the faux turquoise inlay design on the back of the Moche Muscovy Duck chair.
Some issues I've encountered: The water-based metallic gold paint reflects off every bump, dries and clumps quickly, and does not spread evenly compared to other acrylics colors even with additives, and the effects of build-up require extra sanding to keep the surface smooth. I may have to switch to an awfully caustic petroleum-based paint. The overall sculpted effects on the Shiva chair were maintained until finally abandoning the idea just last week. A lot has been filled in, but some carving is left to keep the hand-worked, antique appeal.