Archive for October, 2012
Wednesday, October 17th, 2012
---

Transplanting Daisies, 36W x 12L x 3D inches graphite and acrylics on canvas. Details of work in progress: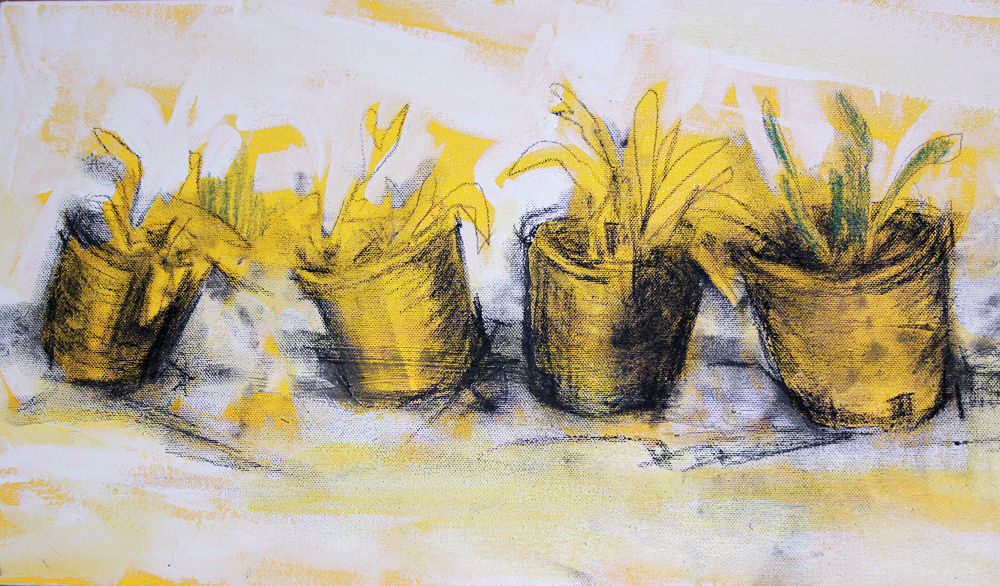 ---
$250.00         

---
Friday, October 12th, 2012
---
Colours For Cameron, 24L x 8H x 6D inches, mixed media on quilted muslin over cardboard pages
"Colours For Cameron" (Canadian spelling!) is composed over five deconstructed heavy-duty cardboard children's books bought at a dollar store. The Monte head-templates were covered with inexpensive everyday items, so I splurged on unique notions like the $10 monkey button sewn on the 'Brown' page, and the cute little cars and tractors that Cameron loves. Some of the fabrics were fairly expensive, but there are enough remnants to make other similar-style projects in the future.
Each page is a quilted muslin sleeve pulled over the cardboard, and colored fabrics divide each page at the base, where they are all sewn and glued together. Rubber letters were covered with various fabrics, and each page has stuffed colored pockets on the outer edge, inviting chubby little fingers to open them..
Thursday, October 11th, 2012
---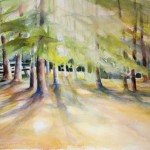 The Campsite, 24 x 30 inches watercolors on 140 lb cold pressed premium
I finally brought my watercolor paints back from my son's place in Canada, where I left them so they wouldn't freeze on the 5-day drive back west last November. Driving again, I've just returned from this year's visit, when I gave my grandson a one-of-a-kind fabric book hand-made for his first birthday, Colors for Cameron. I plan to make him something special every year.
So, with a couple of new brushes and 12 x 16″ paper block, and now with the rainy season upon us back in Oregon, I look forward to establishing a routine of painting again. Invigorated by a summer full of gardening and flowers, the stunning scenery across America this time of year, plus reviewing archives of work I haven't seen for ages, I'm all set to splash out some new watercolors. Our Portland house is a renovator's dream/nightmare!, and we're not out of the woods yet. Attempting to focus more on art than house, smaller paintings are more manageable and less of a production than my typically large canvas paintings…however, I'm curious to experiment and see how watercolors behave on primed canvas at some point!