Archive for June, 2010
Sunday, June 27th, 2010
---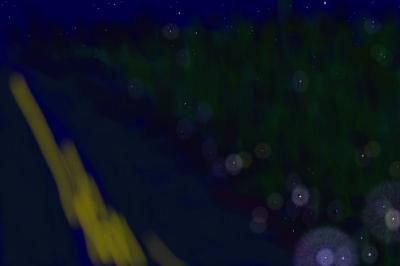 Home from Singapore for a few days, and having to go north to pack up the Dancing With Trees exhibition, I drove up to Ontario first so I could see my sons in Canada before Christmas. At night in the fields and trees from Tennessee to Michigan there are stars and fireflies in the trees – so magical! Until I can express it in paint, here is a quick photoshop impression.
Thursday, June 10th, 2010
---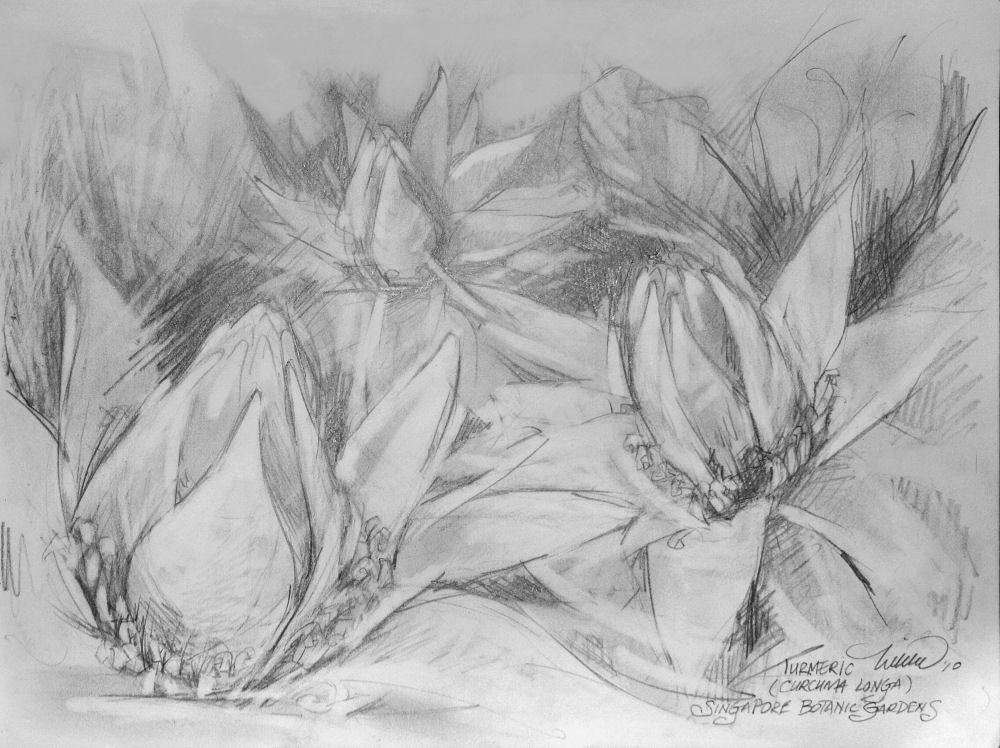 Turmeric Blossoms, 9H x 12W inches graphite on paper
Turmeric is a member of the ginger family. The rhizomes are a rich golden yellow, and the plant is used as a food coloring and flavoring agent, in dyes and traditional eastern cosmetics, and is an important ingredient in curry powder. Native to India, it is grown widely in the tropical areas of Asia. The blossoms are about 14 inches across, seen at the Botanic Gardens in Singapore.
Saturday, June 5th, 2010
---
Treasures 03: Time, 9 x 12 inches graphite on paper
Just for fun, find the clocks and watches set to these times 10:40, 8:05, 7:10, 8:20, 9:00, 2:25, 1:25, and 7:50!
Thursday, June 3rd, 2010
---
Treasures 02, 9H x 12W inches graphite on paper
…and where does one begin such a drawing? With Aladdin's lamp of course.Listed in no particular order, here are the treasures in the above illustration: 1. Spiral-Horned Antelope statue, 2. monkey statue, 3. Woman golfing tropie, 4. Water Buffalo statue, 5. outdated video camera or equiptment – three of, 6. horse head statues – heads only – there are two, 7. what I fondly refer to as "Aladdin's lamp", 8. log-stemmed pipe, 9. duck head statue, 10. Coca Cola alarm clock , 11. statue of three elephants, 12. case of watches, 13. Fish statue, 14. Chinese lantern, 15. ship in a bottle, 16. three vases displayed together, 17. large horse statue, 18. smaller (glass) horse on a glass ball statue, 19. hour glass, 20. out-dated camera
Wednesday, June 2nd, 2010
---
Dragon Fruit, 9H x 12W inches watercolor pencils, graphite on paper, white mat and 15H x 18W inch frame
I've discovered a strange and wonderful new fruit here in Singapore: Pitaya, commonly called Dragon fruit, is cultivated in Vietnam, but apparently is native to Mexico and South America. Possibly then, it's imported to the U.S. and hopefully is sold in Texas. I've seen it in the markets here but thought it was some sort of artichoke. Rarely do you find a fruit that is so large and fleshy where you don't have to deal with removal of seeds or pits or cores to get to the yummy part. This one's all yum, about 6″ long, and tastes much like a kiwi, but more sweet than tangy.
---
$200.00          

---
Tuesday, June 1st, 2010
---
Treasures 01, 9H x 12W inches graphite on paper
I walked by a store the other day where there was a woman bargaining with the owner for one of the items inside, but she was only able to peek in and point because it's crammed full to the entrance door. No customers can even get in to browse! It's a store like one I remember on an old, old '60's episode of Outer Limits, where odd items just like these had mysterious powers over those who purchased them.
So if you're looking for a Beta-Max video camera or a spooky-cool outdated deep sea diving outfit, I know where you can go… it's a store  that would inspire any artist, any writer… and any hoarder! I took a lot of photos through the glass and this sketch is the first of a few that are planned.