Archive for April, 2010
Monday, April 26th, 2010
---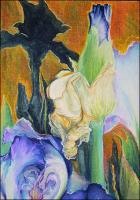 Iris, 24 x 18 inches Oil Pastels on paper
---
Basic Drawing and Color Play
Workshops
Dates:
1) Saturday, May 15th 10:30 a.m. – 4:00 p.m.
2) Saturday, May 22nd 10:30 a.m. – 4:00 p.m.
Ages: Young adult (16) – Adult – Seniors
Experience Level:
Beginners to Experienced Artists, maximum number of participants: 6
The Workshop:
We will sketch simple objects using a variety of loosening-up techniques, graduating to a more complex still-life arrangement, fun with color, then a longer study period in the afternoon.
Supplies:
Bring favorite reference photos or items that you'd like to study, sketchpad and supplies that you usually work with. A variety of papers and drawing supplies will be on hand to experiment with during class. Also bring beverage and lunch.
Fees:
Registration (pre-paid) – $50.00 Oxide Gallery 501 West Hickory St., Denton, Texas 940-483-8900
Registration Deadlines:
March 12th and March 19th – Maximum Students per Class 6
Friday, April 16th, 2010
---
Paintings as shown are not to scale in comparison to one another
The Dancing With Trees Art Exhibition celebrates the importance of trees and forests throughout history, portraying their diversity and relationships through a variety of creative associations. Twenty three of the paintings in this collection are on exhibit in the Steinhauer Trust Gallery at the University of Wisconsin-Madison Arboretum, May 1st through June 30th, 2010. Opening Reception Saturday May 1st, 12:45 – 4:00 p.m.
All life forms on this planet proliferated, continue to flourish, and ultimately depend on the existence of trees. While the message is urgent, I consider humanity's role on the planet as positive, with the statement that creativity is our greatest asset; that "Our carbon footprint is worthy". Further, creative thinking is our most primal, yet highly advanced and ever-evolving contribution toward solutions to healing wrongs done and changing ingrained habits to ones that are more appreciative of the environment in general.
Purchase Art here                    
Monday, April 12th, 2010
---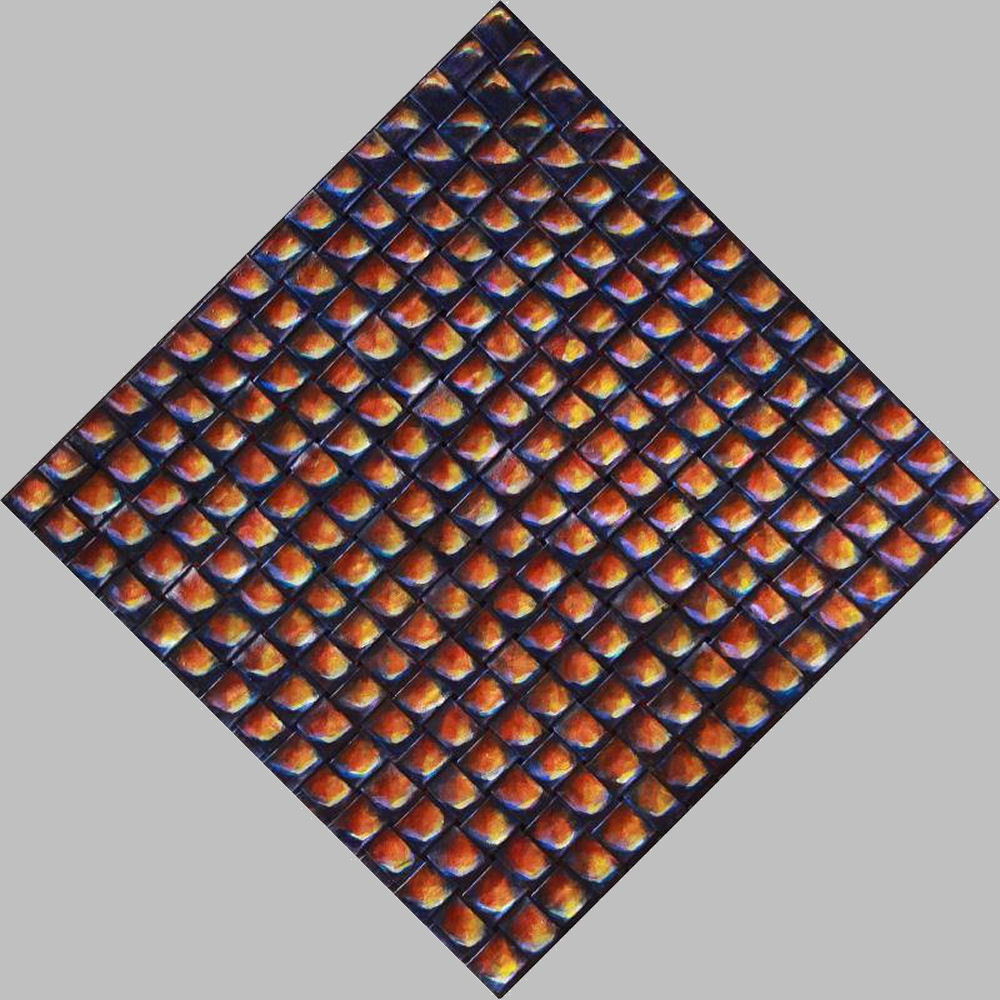 2D Pine Cone, diagonal 28 x 28 x 1 inches, acrylics on woven canvas strips, wrapped sides painted, signed on the back so as not to intrude on the design.
---
$350.00          

---
Friday, April 9th, 2010
---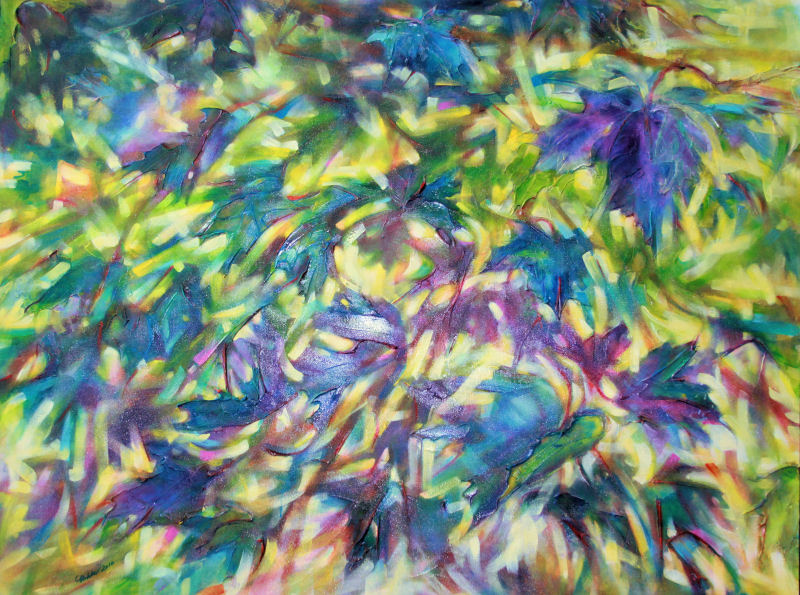 Norway Maple in Madison, Wisconsin, 36H x 48W x 2D inches acrylics and modeling gel on canvas, wrapped sides painted, narrow frame

March 9th: Subtle changes since last post…have been working more on tones in the background, which weren't planned initially; I had hoped to use only pure colors without the usual layering, but it's otherwise too hard to look at. Also am connecting a few shapes horizontally, and it's almost "there", but '2D Pinecone' was started in the meantime to avoid overworking this.
March 6th: Thanks, Virginia for taking the time to write and digitize a detailed, objective critique. I sure appreciate your opinion about what might improve this. Spotted Cow Syndrome eh? Yes, you're absolutely right. There needs to be one focus somewhere; left thumbnail shows another day of work..still in progress.
Feb. 28th, above right: detail of above, left Adding a solid patch of turquoise to lower left and some tiny details like that may ground the whole thing, but that's about it; am leaving it out of sight for a while. This really is a carnival of color, I love it!
Thumbnails: Combined, edited posts of progression between Dec. 8th, 2009 – Feb. 27th, 2010. Started December 8th, 2009: modeling gel is available in varied textures, finishes and viscosity. Acrylics paint can be mixed with the medium or when dry paint can be applied over top. 3) January 18th, 2010: applying modeling paste to the base painting, and sculpting with a small trowel. February 27th: lighter background colors were added in order to open up the space.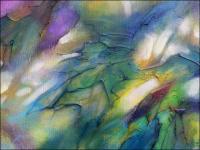 Left: Jan 28th, detail image – used  a dry brush so paint would catch mostly on the textures, and kept the feeling soft. Intentions are to maintain the fresh pure colors. Studied from a distance for about a week after this stage to contemplate what the next move will be.
All paintings and Art forms created from now until the end of April will be specifically toward the Dancing With Trees Exhibition to be held at the Steinhaur Trust Gallery, Wisconsin-Madison University Arboretum, scheduled May through June 2010.
---
$750.00          

---
Tuesday, April 6th, 2010
---
Milkweed Melody, 27H x 33W inches framed Oil Pastels on 140 lb cold pressed premium watercolor paper 
Partnering with poet Christina Smith and her poem, Earth's Love Song Milkweed Melody is showing April 1st – 30th at the VAST (Visual Arts Society of Texas) and Denton Poets Assembly collaborative event, Merging Visions Exhibition, with art and poetry at both the Emily Fowler and North Branch Libraries, Denton, Texas. Opening Receptions Saturday, April 17th 10 a.m. – 12 p.m. at Emily Fowler and 1 – 3 p.m. at North Branch
---
$350.00        

---
Thursday, April 1st, 2010
---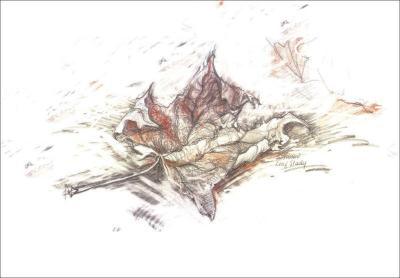 The article, Extreme Drawing is finally revised and re-posted…10 days writing and revising. If I could draw about extreme writing I would, because it would certainly be a lot easier! Tomorrow, a treat away from all the computer work: starting a new painting.  Today: a leaf study, conte and graphite on paper.