Archive for February, 2010
Thursday, February 25th, 2010
---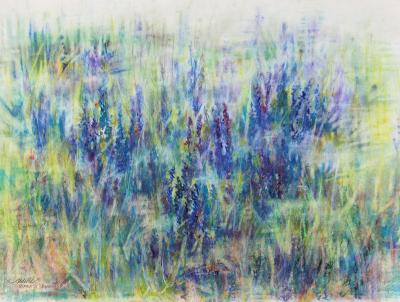 Viper's Bugloss, 18 x 25 inches Dry Pastels on paper. With pink buds and blue-violet flowers along tall stems, it's tempting to bring these wildflowers in as cut flowers, but the plants' properties make the skin itchy and sore, so are best enjoyed left where they are, growing in masses beside the highways in eastern Ontario during the summer. I was curious about the name… according to the Encyclopedia of Herbs and Herbalism edited by Michael Stuart (c. 1979, 1987 ISBN 0-9999-48911), they were formerly one of the most respected plants used for the treatment of viper's snake bite venom.
Thursday, February 25th, 2010
---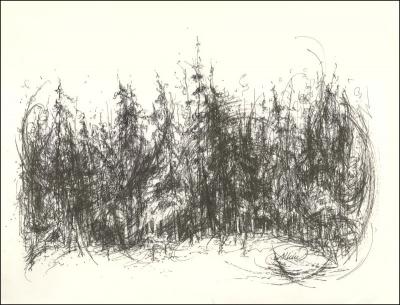 Marie Lake campsite, Alberta, 8 x 10 inches pen on paper
Monday, February 22nd, 2010
---

Cartoons to "Cool!" Drawing and Illustration: How to take your abilities less seriously so they can seriously improve.
Cartoons a) use basic geometric shapes b) eliminate unnecessary details c) simplify lines and d) exaggerate key characteristics and the most obvious features of a subject. The same principles translate well to creating representational work also. Participants will learn to portray these basics in a favorite image, then have time to complete a more realistic drawing in the afternoon.
Where, When, and Sign up at: Oxide Gallery, Denton, Texas – Saturday, March 27th 10:30 a.m. – 4 p.m. If there is enough interest, a second workshop will be held Sunday, March 28th as well. Participants are welcome to sign up for both days.
Fee: $50 10:30 a.m. – 4 p.m.     For ages 16 and up, any skill level  (if you are 15 or 101 you will still be considered eligible)    Min. – Max. # of participants: 5 – 15      Supplies: A variety of supplies will be provided, but also bring any of your own supplies that you want to work with. We will work partially from a still-life arrangement which you may choose to finish, but also bring favorite pictures, photos; images of any subject matter. Select one in particular that you hope to accomplish, or have a clearer direction toward finishing (in the manner you choose) at the end of the day.
___________________
Quote from The Zen of Seeing – seeing/drawing as meditation, drawn and hand-written by Frederick Franck:
"How, I am asked, does one draw animals cows, horses, birds? Since for me each new drawing is an adventure for which I cannot predict the outcome, is always — in a sense — my very first one, I can give no recipe."
I've been asked to teach drawing since 'way back, but with the philosophy that we are our own best authorities when it comes to creating anything, I've never felt even half-qualified to "teach" anything. It was a recent conversation with a couple of other artists, that propelled the energy to commit to this workshop. There are many ways to approach learning – specifically, how to draw – as many ways as there are individuals.
Thursday, February 11th, 2010
---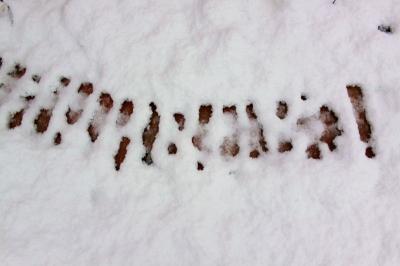 Translation: It's snowing in Dallas today!
It snowed all day, huge Texas-sized flakes. Here, the snow melts on the warmth of the brick-work in the garden.
Wednesday, February 10th, 2010
---
Cycad Fossil Chair, Salish NW Pacific culture wooden whorl replica Chair, and Ancient Mayan bowl replica refurbished vintage chair, 29 x 29 x 29 inches mixed media. Read the feature article.
On exhibit and available for purchase February 11th – 27th at Visual Image Fine Art Puiblishing and Gallery Juried Show, 14320 Midway Road, Suite 300, Dallas, Texas.  Come and meet all the Artists at the Opening Reception this coming Saturday, Feb. 13th, 3 – 9 p.m.
~
Good Artist Pals also come in threes
Some friendships will last forever, and how fortunate that three of mine also happen to be artists! Listed in no particular order of favoritism, each are miles apart geographically speaking and personality-wise, but they all have one thing in common: they'll tell it like it is if you ever need a good critique, and on the flip side of the coin: a smile, a boost of energy; encouragement. I've posted my favorite works created by each, and highly recommend browsing each of their websites..
a) Chris Bolmeier: Happy Pigs, Oil on canvas  I met Chris on the internet three years ago through Robert Genn's Painter's Keys newsletters. Formerly an actress and professional singer, she's not through yet with entertaining you through humour, song and paint. She often posts mini-videos of herself singing, and her artwork is pure, straight from the gut, and some of the funniest, most original material ever. I chose this piece to share as an absolute favorite, portraying fanatically goofy pigs because it makes me laugh…not just smile, but laugh Christerically every time I look at it. In my opinion her best work is of childhood memories, and some of the baffling stuff that originates from who knows where in the infinite canvas of her mind!
b) Karen Xarchos: Restaurant mural in Ottawa, Ontario, Canada  Karen and I were neighbors many years ago. We designed and painted murals together in the Ottawa area for a couple of years. Thank goodness for the internet, we're able to keep in touch when either of us needs a good eye and some honest advice. Karen's style and mine are vastly different; our pace, the style, the manner and we continue to learn so much from each other. She reminds me to slow down and smell the paint; her blending techniques are amazing.
Karen accepts commissions for canvas pieces like wall borders painted at home, then cleverly installs them with wallpaper paste so home owners can remove the work and take it with them when they relocate. My favorite work of Karen's are the murals depicting work of the Masters, which are enjoyed by customers dining in many of the Greek and Italian restaurants in the Ottawa area.
c) Virginia Wieringa: Prayer, mixed media collage  Virginia and I met about four years ago on an Artists' interactive website, wetcanvas.com, and I think she still participates there under the avatar name "Veedubya". I'm positive she'd love to meet you there too. Virginia has well-developed drawing and painting abilities and currently experiments intuitively with mixed media collage. Her work, no matter what the media, reflects her open-mindedness and strong sense of spirituality. Formerly an Art teacher, she's fun to write to because she puts up with my inner-most silly self and doesn't hold back her own. My favorite work of Virginia's are the subtly symbolic collages, and some of the more vivid, energetic paintings that are about two phases pre-Realism.
Friday, February 5th, 2010
---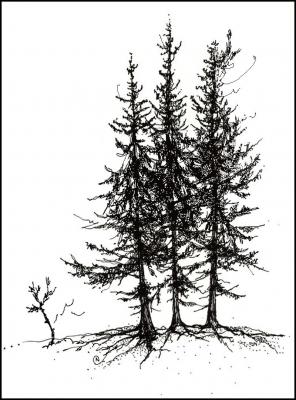 Alberta Spruce, pen and ink, digital pen