Archive for May, 2009
Monday, May 25th, 2009
---
What Bigleaf Maples Do At Night, 57H x 20W x 4D inches muslin, glue, acrylics on  canvas  wrapped over custom-built stretcher frame. LED light system in back.
Alain, my husband, signed his name on this also, because he spent the entire week designing, soldering and wiring a system of 30 LED lights for the back. He was not impressed with the eight inadequate push-lights I was initially going to use to create this Day- Night  Art. The electric source is a rechargeable 12 volt battery placed neatly in the back, with an easily accessible on-off switch in the lower left corner. He's not thrilled to ever create another, so it looks like I'll be learning a little about soldering and electronics, because there are plans to transform the other two canvases exactly the same size as this one. Originally l hoped it could hang in any of four orientations, but that was revised due the battery pack in the back. Thank you Alain for making this piece what it is!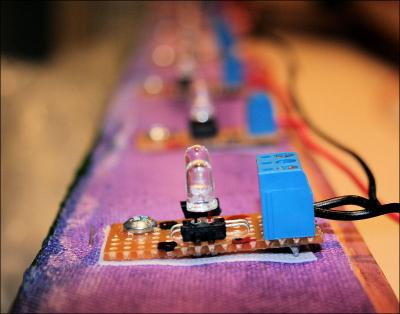 ______________________The original blog posts; process:___________________
Nov. 17th, 2008: While finishing the final stages of Sun Shower #4, at this point more study than stroke, I've started on the next piece… a bit of mystery thrown into this one just for fun. Hint: Step 1 – Unbleached muslin is painted with glue; place over top parchment paper and turn or lift frequently so it doesn't stick. Nov. 18th: Step 2– When dry the muslin becomes stiff and can be crumpled, pinched and maneuvered to create 3D textures.
Nov 18th, aft. Step 3 – OK, enough guessing. I have three beautiful sturdy 36 x 12 x 3 inch canvases, hung vertically or horizontally. Each one will have a 3D design of life-sized leaves created with the stiff muslin. This one is of Large Leaf Maples seen on salt Spring Island, B.C. when we were there last summer. They are really this big – about 15 inches across! On these canvases, all dimensional surfaces will be considered; the front, the sides, and possibly some sticking out from the back. Everything will be primed before painting and I love Virginia's idea to use glue as a resist for the leaf veins. In the above three images the design is still in planning stages.
Nov. 19th – A few thoughts before continuing work: this could be as simple as a sillhouette or painted realistically, still haven't decided..maybe a compromise of the two, on the abstract side of things. Putting lights in the back could be interesting too, as in the recent Zen Garden #8 but would like to come up with something that does not have a distracting cord.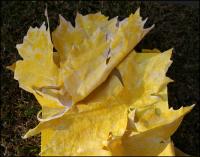 Nov.21st – Seen here, the leaves have a splotchy base coat of Hansa Yellow Deep, a color chosen because when it is so vibrant when it peeks through built up layers of other colors. Now that the entire piece has color though, I think I prefer the sculptural purity of the unpainted sillhouettes better – something to remember for similar work in the future.
The weight  of tinted primer and each application of acrylics makes the fabric  limp from of the paint, meaning the creasing process needs to be done all over again once it dries, even on successive layers. Because of this I need to slow down and be more gentle with the painting process also. It's funny how you can overlook things like that when you are ten steps ahead with anticipation for a new project; things always take much longer than you imagine. There is going to be a lot of stopping and starting with this one, which is exactly how overlapping projects occurs.
Also: looking forward to a day-long workshop tomorrow, learning about Encaustic painting with Deanna Wood. Encaustics is an ancient process of painting with beeswax and natural resins. Not usually a "workshop" kind of Artist because I'm too greedy with my work-time, but this is one of those things that's best learned from an expert. Am bringing a fabric leaf to the class to see how it could be incorporated and if this entire. Large Leaf Maples piece could benefit.
______________________________
All posts and comments for this piece are now combined.
Submitted on 2008/11/18 at 11:48am
If you don't want to see the seed bits in the muslin, you can get unbleached muslin without the seeds. (New viewer comment: Lynda's website)
_______________________________
Submitted on 2008/11/18 at 1:03pm
OK Lynda, thanks for offering this valuable tip. With regard to what's in mind for this project, the rawness of the fabric will provide texture, but others may want to know that finer quality muslin is available.
Nikki
_______________________________
Submitted on 2008/11/18 at 1:53pm
Hmmm…looks like a resist process to me. Is it a mask? You are a very adventurous soul!
Virginia Wieringa
_______________________________
Submitted on 2008/11/18 at 2:06pm
Nope, not a mask or resist…at least the glue wasn't initially going to be used as a resist, but once again I owe thanks for the tip via a viewer's comment – thanks Virginia! It's true, glue can be used on anything as a paint resist, usually on wood it works similar to crackle glaze (ask me how if anyone is interested). I haven't tried that technique on raw fabric yet though and for what I have in mind, painting extra glue in strategic places could produce some interesting effects. Let's see…
Nikki
_______________________________
Submitted on 2008/11/19 at 1:16am
This is great Nikki. I'll be back tomorrow to see how this project is coming along.
Jim Drury
_______________________________
Submitted on 2008/11/19 at 4:12pm
Hi Nikki
This is getting really interesting, can't wait to see the finish project
Elizabeth
_______________________________
Submitted on 2008/11/19 at 7:07pm
Thanks for staying tuned Dad and Elizabeth, I also can't wait to see the finished project – it's always a mystery even if I think I know what I'm doing.
Nikki
_______________________________
Nov.27: What Large Leaf Maples Do At Night, detail images of 12 x 36 x 3 inches Muslin, glue, acrylics on wrapped canvas. As seen here I imagined the leaves glowing in the moonlight, which took me to the idea of turning it into a piece that can be viewed differently in a dark corner or at night so the sculptural sillhouette shows best.
Since Saturday's Encaustics workshop I'd like to try another sculptural piece doing the whole thing with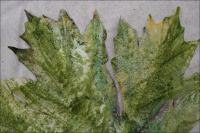 Encaustics tecniques, see right sample. Beeswax doesn't adhere to acrylics though, so another will need to be planned with that medium in mind right from the start.
Saturday, May 23rd, 2009
---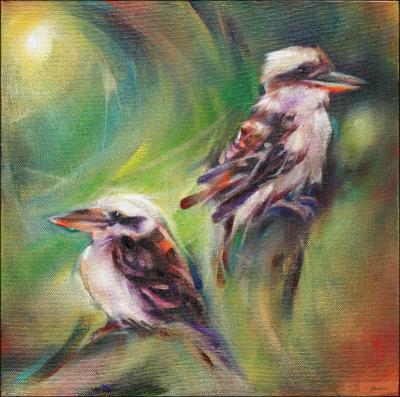 Kookaburras, 11H x 11W x 3D inches acrylics on canvas, wrapped sides painted – finished today
Kookaburras, work progress.  March 13th, 2009 blog post: This painting could have been left at phase 3, but the decision to give the birds more definition and sense of realism created a whole new set of problems. For example, the composition which was unbalanced from the start, is now exaggerated and more noticeable, so a third element needs to be added in the upper left corner..not necessarily another object but color or shape that would shift the weight and attention away from the lower left areas.
There is a stage where, once details are added or changes made to one area, every other thing in the picture needs to be brought to the same level of quality; quality meaning style and feeling of the features.  I don't regret proceeding but it does mean extra effort to solve all the  new challenges, and usually while attempting to solve those new ones arise.  Other professionals would say this is overworking, but it really depends on what your intentions are as an Artist, and what motivates the work. If risks are not taken sometimes, a painting may never be all that it could be. Phrases we tend to cling to like 'less is more' are not written in stone; sometimes more is more…learning is a good thing!
In landscapes details are best left for the imagination, whereas painting animals, birds or other creatures, a purpose needs to be clearer. Is the intention to portray character through shape and silhouette? other traits?  specific markings?  Is it the main focus or only a part of the whole? Computer tools are also useful in playing with colors and other possibilities.
Wednesday, May 13th, 2009
---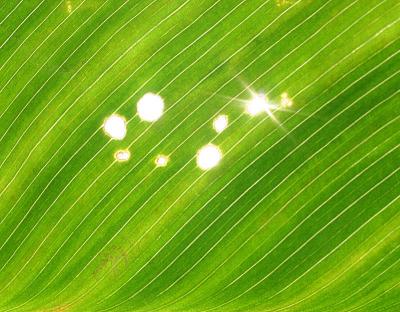 Not much artwork to be posted this past week or for the next two weeks because of all the printing and finalizing details for The Majesty of Trees, so I might as well post another link to the website and promote the show one more time.
Meanwhile, taking photos is still a daily activity because there's always something beautiful somewhere, and it sure is a nice way to take a break..
Saturday, May 9th, 2009
---
Zen Garden 02, 48W x 24H x 1D inches mixed media: texture medium, sand, white glue, modeling paste, kitty litter (new of course!), plaster
This painting, just sold, won the Visual Art Society of Texas title of Artist of the Year (2009) for me at Thursday night's meeting. This piece hangs vertically, horizontally or can be flipped upside down 2 ways; four different orientation hanging-options. Most of the Zen Garden series are experimental, seeking various ways to obtain the raked sand look without having to pay high prices for the ready-made texture mediums that don't cover much surface. Zen Garden #2 uses kitty litter bought at the dollar store mixed in varying portions with the above fillers, scooped into a large ziploc bag that was cut in the corner and squeezed out like cake icing onto the canvas. I still had to maneuver the medium into place with fingers because it was so thick coming out of the bag, due to the new absorption factors of new brands of kitty litter. I'll experiment with aquarium sand and pebbles, or any number of other pet products that are far less expensive than art supplies.
While titles and awards can help refuel encouragement, finding our own source of motivation keeps us working and growing continually, regardless.  Robert Genn in The Painter's Keys has some interesting words about the subject of jurying and acceptance or non-acceptance, quoting Jung, Your vision will become clear only when you look into your heart. Who looks outside, dreams. Who looks inside, awakens.
Tuesday, May 5th, 2009
---
Sumac Bushes, 47H x 22W x 16D inches refurbished directors chair, acrylics on canvas. Four cropped pieces of the 1999 painting that inspired this chair hang above it, updated and framed red; the chair and small paintings are a set.
Friday, May 1st, 2009
---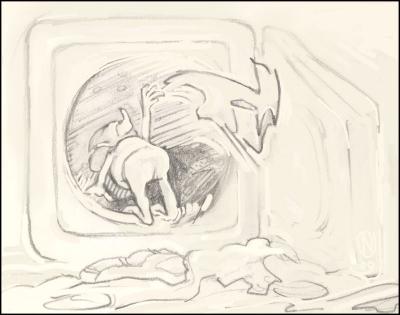 Alright, I try to work every single day, but there are days when work just has to be play for a while. This morning my husband and I had a little argument over who it was that dumped all the clean clothes that were in the laundry basket onto the floor.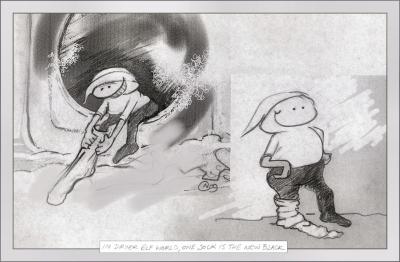 (Alain, they take our socks too)