Archive for May, 2009
Monday, May 25th, 2009
What Big-Leaf Maples Do At Night, 20 x 57 x 4 inches muslin, glue, acrylics on  canvas  wrapped over custom-built stretcher frame LED light system in back.
Alain (my husband) signed his name on this also, because he spent the entire week designing, soldering and wiring a system of 30 LED lights for the back. He was not impressed with the eight inadequate push-lights I was initially going to use to create this Day- Night  Art. The electric source is a rechargeable 12 volt battery placed neatly in the back, with an easily accessible on-off switch in the lower left corner. He's not thrilled to ever create another, so it looks like I'll be learning a little about soldering and electronics, because there are plans to transform the other two canvases exactly the same size as this one. Originally l hoped it could hang in any of four orientations, but that was revised due the battery pack in the back. Thank you Alain for making this piece what it is!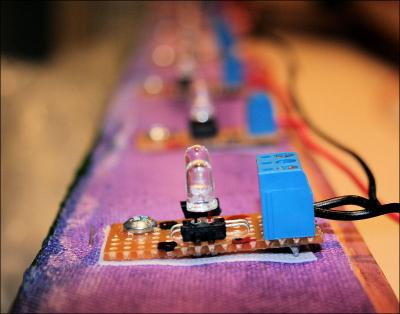 ______________________The original blog posts; process:___________________
Saturday, May 23rd, 2009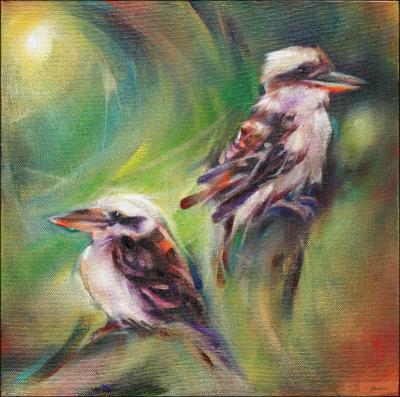 Kookaburrahs, 11 x11 x 3 inches acrylics on canvas, gallery wrapped sides painted – finished today
March 13th, 2009 Blog post: Kookaburrahs, work in progress.  This painting could have been left at phase 3, but the decision to give the birds more definition and sense of realism created a whole new set of problems. For example, the composition which was unbalanced from the start, is now exaggerated and more noticable, so a third element needs to be added in the upper left corner..not necessarily another object but color or shape that would shift the weight and attention away from the lower left areas.
Wednesday, May 13th, 2009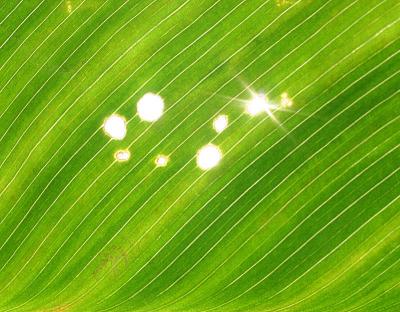 Not much artwork to be posted this past week or for the next two weeks because of all the printing and finalizing details for The Majesty of Trees, so I might as well post another link to the website and promote the show one more time.
Meanwhile, taking photos is still a daily activity because there's always something beautiful somewhere, and it sure is a nice way to take a break..
Saturday, May 9th, 2009
Zen Garden 02, 48W x 24H x 1D inches mixed media: texture medium, sand, white glue, modeling paste, kitty litter (new of course!), plaster
This painting, just sold, won the Visual Art Society of Texas title of Artist of the Year (2009) for me at Thursday night's meeting. This piece hangs vertically, horizontally or can be flipped upside down 2 ways; four different orientation hanging-options. Most of the Zen Garden series are experimental, seeking various ways to obtain the raked sand look without having to pay high prices for the ready-made texture mediums that don't cover much surface. Zen Garden #2 uses kitty litter bought at the dollar store mixed in varying portions with the above fillers, scooped into a large ziploc bag that was cut in the corner and squeezed out like cake icing onto the canvas. I still had to maneuver the medium into place with fingers because it was so thick coming out of the bag, due to the new absorption factors of new brands of kitty litter. I'll experiment with aquarium sand and pebbles, or any number of other pet products that are far less expensive than art supplies.
While titles and awards can help refuel encouragement, finding our own source of motivation keeps us working and growing continually, regardless.  Robert Genn in The Painter's Keys has some interesting words about the subject of jurying and acceptance or non-acceptance, quoting Jung, Your vision will become clear only when you look into your heart. Who looks outside, dreams. Who looks inside, awakens.
Tuesday, May 5th, 2009
Sumac Bushes  47H x 22W x 16D inches refurbished directors chair, acrylics on canvas
Four cropped pieces of the 1999 painting that inspired this chair hang above it, framed red; the chair and small paintings are a set.
Click here to view the previous post  January 6th.
Friday, May 1st, 2009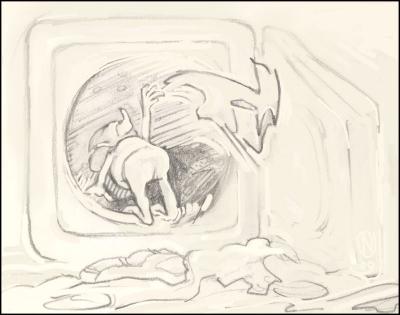 Alright, I try to work every single day, but there are days when work just has to be play for a while. This morning my husband and I had a little argument over who it was that dumped all the clean clothes that were in the laundry basket onto the floor.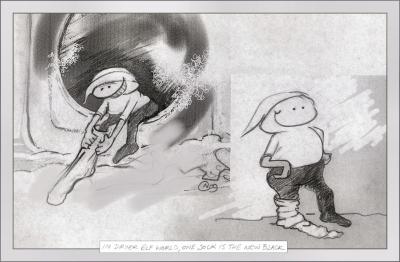 (Alain, they take our socks too)