Archive for February, 2009
Saturday, February 28th, 2009
---
Bird's Eye, Banff, Alberta, Canada, 11H x 11W x 3D inches acrylics on canvas, wrapped sides painted. Signed on the side, so a signature is superimposed on the front. March 3rd: above,  February 28:  thumbnails below
---
$350.00           

---
Friday, February 27th, 2009
---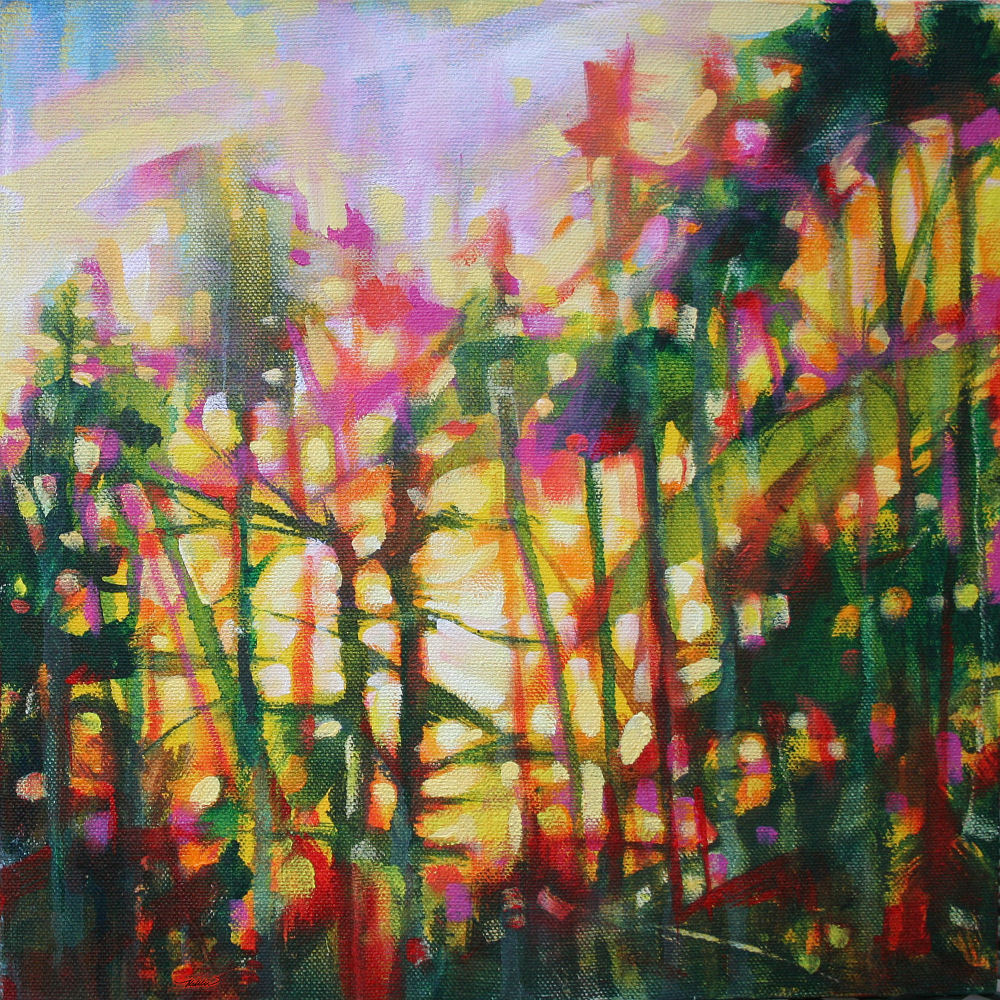 St. Catherine's Sunset Ontario, Canada just north of Niagara Falls, 11H x 11W x 3D inches acrylics on canvas, sides painted. The signature is on the side, so one has been superimposed here on the front.
There is no one method for starting a painting.  When faced with a blank white surface, sometimes our mind can go blank too. When that happens I use a base color that inspires energy. Here, water and paint were dripped down a wet surface of Hansa Yellow Deep. Painting intuitively with a wide raggedy old brush, the fraying bristles are used to advantage, and those marks direct how the painting proceeds.
This painting is dedicated to my Mom, born in St. Catherine's, Ontario, Canada whose birthday was two days ago.
---
$350.00           

---
Thursday, February 26th, 2009
---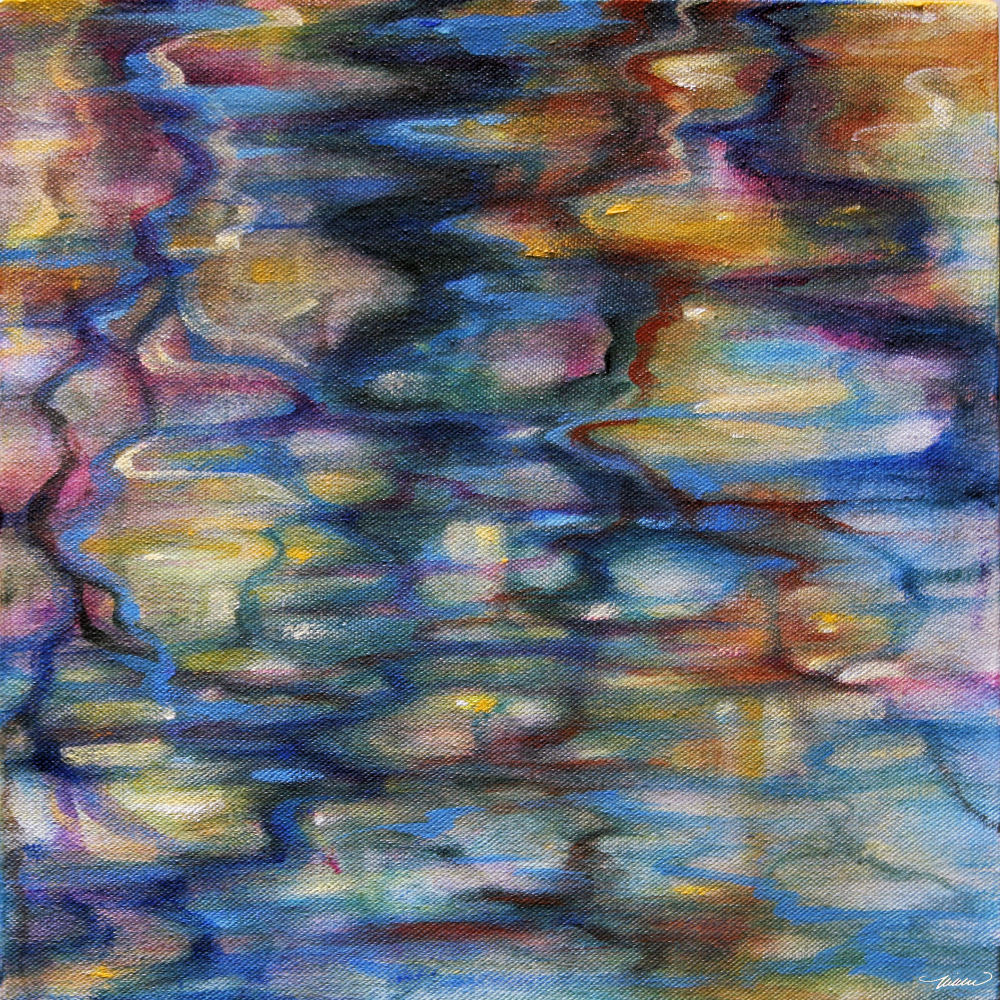 Winter Reflections, winter in Coppell, TX, 11 x 11 x 3 inches, acrylics on canvas, wrapped sides painted.  Most of the Magic Square series paintings are signed on the side, so the images on the blog show a superimposed signature.
---
$350.00           

---
Wednesday, February 25th, 2009
---
Jack Pine, 11H x 11W x 3D inches acrylics on canvas and detail of right side; all sides painted. Signature is on the side, so one is superimposed here on the front.
---
$350.00           

---
Tuesday, February 24th, 2009
---
Eastern Redbuds finished April 11, 2009, took off all remaining masking fluid. 11H x 11W x 3D inches, acrylics on canvas, wrapped sides painted.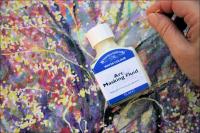 Eastern Redbuds is the first of sixteen 11H x 11W x 3D inches acrylics on canvas paintings of various aspects of trees, to hang together as a group or flanking other paintings. This one uses masking medium to block out areas of white. The first layer of dried medium was removed in the above thumbnails. Afternoon post, left:  Adding another layer of masking fluid, seen as yellow.
Feb. 25th:  below left, looks better turned on its side but it could be hung either direction, mask was removed then the painting was overworked unintentionally – all the marks that were the whole point of using masking fluid are hardly visible. So on Feb. 26th: below right, more mask was applied, then white painted between branches, tore away a few select areas of the dried mask and left the rest on as texture.
---
$350.00           

---
Thursday, February 19th, 2009
---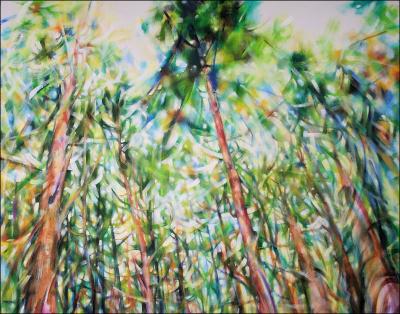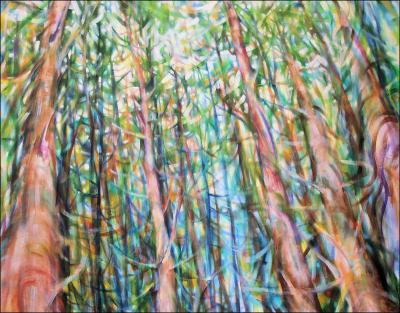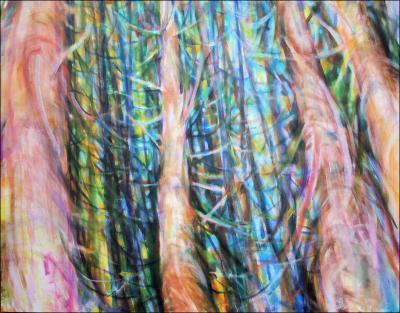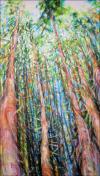 Dancing With Trees 03, 85H x 45W x 3D inches acrylics on canvas, wrapped sides painted, trim frame. Signature piece for the Dancing With Trees exhibition, formerly entitled 'The Majesty of Trees'.  There is no black in this painting; the darkest areas are dioxazine purple. Aside from a couple of areas that are still questionable this painting is now finished. Specifically: I'm not sure about adding shadows and contrast on the bark of the main trees because it may take away from the cheerful expression of colors.
Progress in previous posts:  January 19th and 30th
The name of the exhibition changed to 'Dancing With Trees' to avoid plagiarizing the title of a book, 'Majesty of Trees'.
---
$350.00           

---
Wednesday, February 18th, 2009
---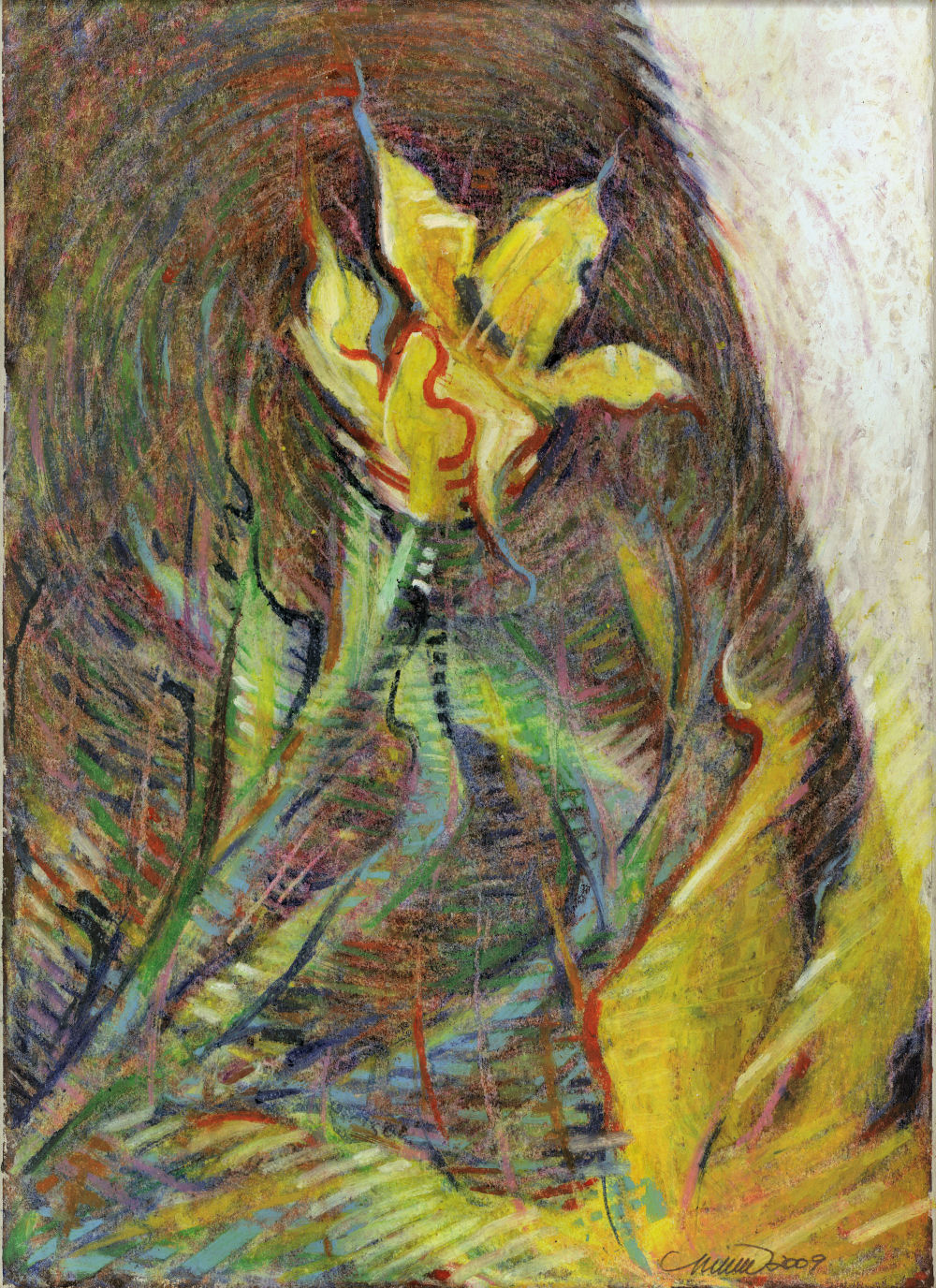 1)  finished today   2) 2006   3)  2009 in progress
Finished today: added some life to End of Tulip Season, 14H x 11W oil pastels on paper. Except for the fact that paper has a limit to how much it can be reworked before it starts stretching, I could keep revising these drawings  in the Paper Places series continually!  Some of them are finished in a day, and truly finished. Some drawings seem OK when they are finished, but have areas that are not quite there yet, so they are left for a month or a year or two then taken out and reworked. It's great exercise playing with color and composition. Some are taken too far, but with regard to learning, effort is never wasted. Change characterizes this series too; change of place, change of time, change of styles, changing what's already been changed.
---
$350.00           

---
Saturday, February 14th, 2009
---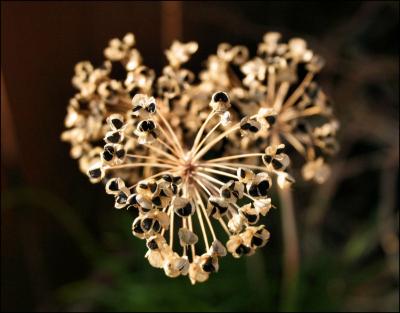 Garlic Chive seed head, heart-shaped growth
Sunday, February 8th, 2009
---
On Cloud Nine Left:  The view from the road to the Giant Redwoods in the John Muir National Forest, western coast CA. Right:  A forest fire still smouldering in October 2008, Mariposa Grove, Sequoia National Forest, central California.
Some new photos of the Giant Sequoias have been posted on majestyoftrees.com
Saturday, February 7th, 2009
---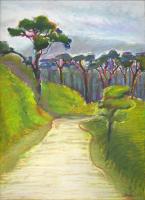 "Please curb your dogma" reads the large sign outside the Horizon Unitarian Universalist Church in Carrolton, Texas. The Artists On The Horizon  program offers artists an opportunity to show and sell their work in an open, receptive atmosphere. Now on exhibit: a series of  interesting collages of paper that incorporate elements of painting, drawing and sculpture by contemporary artist Bryce Lafferty. The Paper Places series shows March 1 – 31st.  Left: Lake Cote Cloud Forest Reserve, Costa Rica.