Archive for January, 2009
Friday, January 30th, 2009
---

Left: Hemlocks, Queen Charlotte Island, 1980 – 48 x 48 x 2 inches

acrylics on canvas, painted plein air. Right: Birch, 1993 – 6 x 4 watercolors. I have been trying to return to the same carefree approach I painted with during the earlier years. While some of my first paintings were a little on the sloppy side, the look and feeling of life in the work comes through the first reactive sloppy-looking brushstrokes. Too much refining tones down that energy.  It has taken about six years to rid myself of  a lot of habits that developed by painting murals, like tidying up too much and mixing colors on the palette as opposed to just throwing the color onto the canvas. Not that mural painting is valued as  less than canvas paintings, but they require entirely different methods, and because their intended purpose is slightly different, so is the approach to painting them. Switching back to canvas now, even if the surface is large it's taken six years to re-adapt to the process of painting on canvas. All that I think I know can get in the way sometimes. In Dancing With Trees 03 I'm rediscovering some of the joy that pushed everything forward in the first place.  Virginia, you say that this sings and dances…well, that's exactly how I feel while painting this one.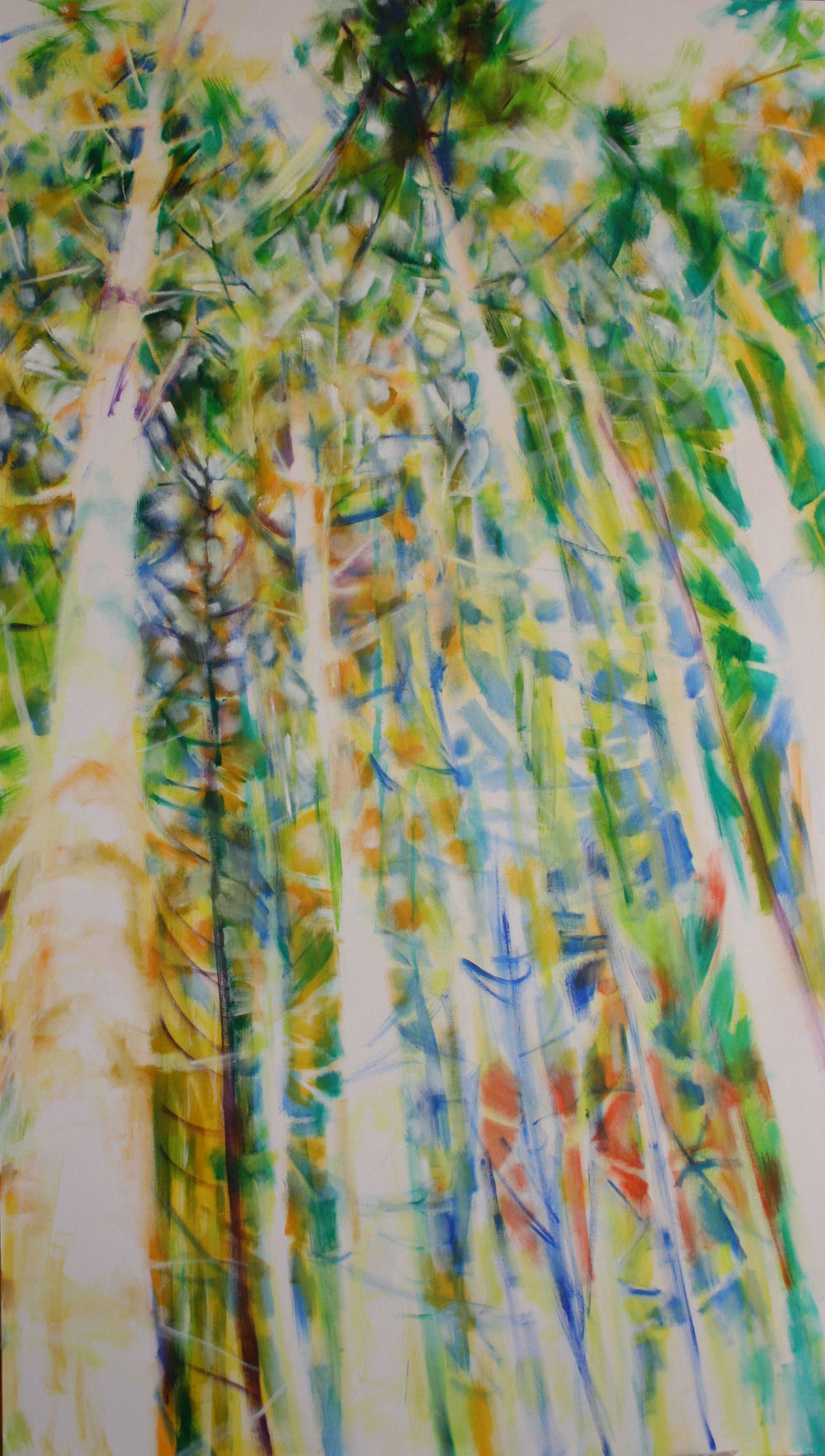 Dancing With Trees 03 work in progress, 85H x 45W x 3D inches acrylics on canvas, sides painted
Monday, January 19th, 2009
---
There are at least four active projects on the go here, and that's the case with most artists. Because creativity is all-encompassing, and when the unpredictable nature of it is revealed on a daily blog, a defining statement or mission and re-evaluating it every once in a while is all-important.
* Career artists do not generate production like a factory or have the same business formulas and game plans as retailers; for us everything from conception to sale is self-prompted. Motivation to work every day on something often means doing something different every day. I give myself the guilt-free permission to do whatever I want at on any given day. However…
* One main piece of work needs to be on the plate always, and the others are like a sort of coffee break; the mind needs to think of other things for a bit then return to the main work with new perspective.
* About faith and fortitude: eventually things are finished one after the other, some in one day, some not…but every day no matter what, if one puts forth effort even with no results, then something is still accomplished.
* Self-discipline: if a client is expecting an original concept and a complete product within 48 hours, then absolutely: results can be forced. Within that limited time frame, the usual way of working and thinking becomes temporarily chaotic; a difficult process for some, because presupposed thoughts have to scatter and previously-done ideas need to be let go. At some point, maybe with only one hour left – crunch time – trust that chaos regroups into something totally new and unexpected..the best, most rewarding work can occur during these times. In other words, here's how anything is created: you've gotta be willing to go a little kooky if you have to, but always be alert to reason and bring a thing into reality!
* We have long-term goals and short-term goals, and mini-goals within the short-term ones, but the process is one and the same: shifting the usual and expected way of thinking – or working – is the best way to regenerate creativity on a consistent basis.
Friday, January 16th, 2009
---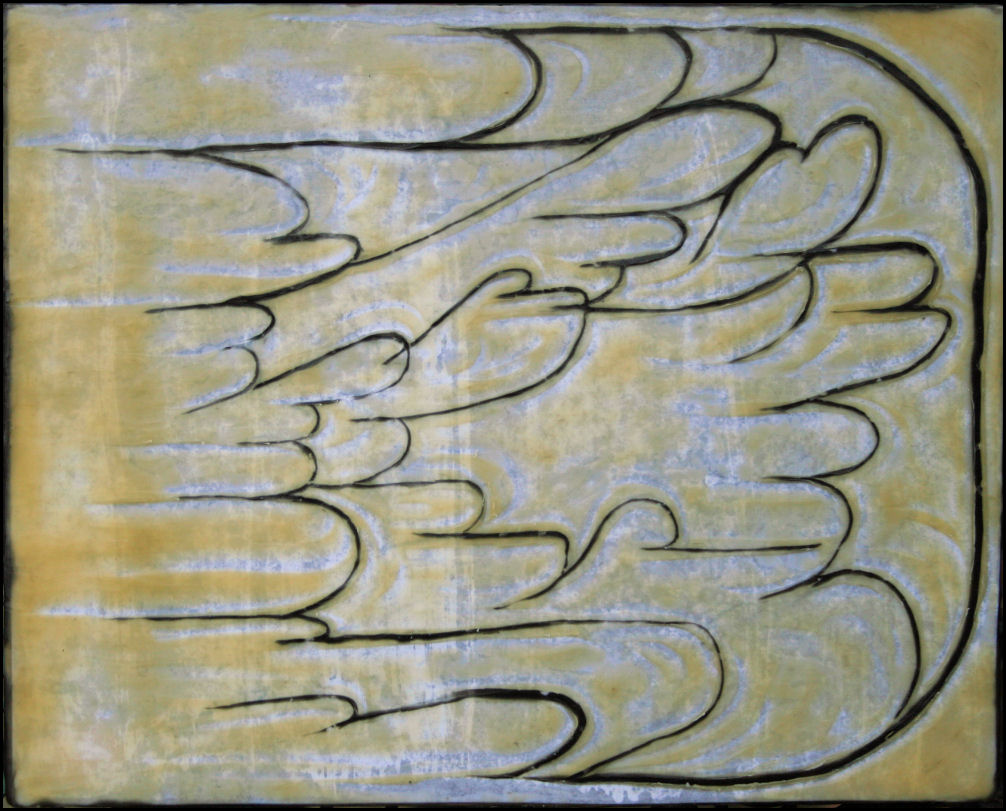 Windy Maple Leaves, 8H x 10W x 2D inches encaustics
1) design inspired by Flamboyant Tree Seed Pods, white beeswax inlay on black, and 2) using a print of an old painting Dahlias as a base, techniques were more spontaneous, each 10H x 8W x 2D inches encaustics
---
$100.00 each            

---
Encaustic Artist Deanna Wood offers her studio space and supplies to her students on days when she'll be there working. It's a bargain for $30 per day so I went yesterday and finished the two pieces above.  Painting with wax is a messy process, and Deanna's studio is all set up for it, so it's a perfect arrangement for artists who work primarily in other mediums, who don't yet have their own supplies and wish to continue exploring encaustics. BYOS – Bring your own surface!
With a FAQ page on her website, Deanna outlines a brief history about encaustics and herself.  Her most recent solo exhibition displays a portion of the extensive amount of encaustic works created around the theme of tornadoes. Including a few multi-media pieces as well, the show runs January 10th – February 29th, 2009 at the Leslie Powell Foundation and Gallery in Lawton, Oklahoma.
Tuesday, January 6th, 2009
---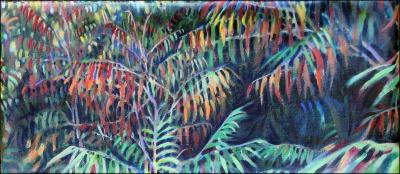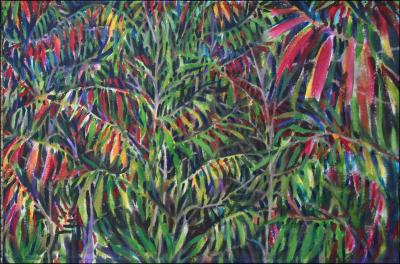 Sumac Bushes director's chair started. Back and seat of 47H x 22W x 16D inches acrylics on canvas, will be varnished. Up-cycled tall wood director's chair, work in progress, functional art. The wood will be painted a cherry color.
Saturday, January 3rd, 2009
---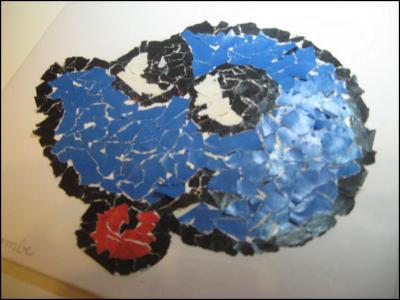 Post-dated January 11th, my niece Camille created this.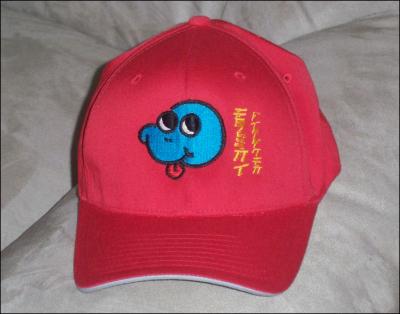 Post-dated January 28th, my son Adrian created this with his new industrial emboidery machine…good luck with your new biz Adrian!

Who or what is Monte?  ("Mon-tee")
Borne out of inattentiveness in a grade six science class, I drew Monte everywhere on my friends' notebooks, on everything I owned, even painted him on the back window of a friend's car during the late '70's, which I have no photo of, unfortunately. 

Monte has managed to come back to life every few years since then in some form or another. The cartoon head is originally blue and drawn along with different hand gestures, but the basic shape can morph into any figure simply by changing the eyes, shape of the head, adding ears or a nose or a suitable body.

The Monte Files were listed on my very first website (2003) with the invitation for you, whoever and wherever you are, despite your age or drawing capabilities, to send in your version of Monte or a character inspired by him, and add it to the collection. The Monte Files are back, listed as a permanent page on this website and the invitation stands. 

Your character doesn't even have to resemble Monte at all, and can be created using whatever media you wish.  Scan him, trace him, shred him to bits then reassemble him, make a collage with magazine clippings, write a quip or add hand gestures…no rules except be kind and have fun with it; Monte's up for anything….

Children, adults, artists or not, or if you have a website of your own that you'd like to promote in The Monte Files then send a jpeg image of your version of Monte, or a character inspired by him, along with any information you wish to share to nikki_coulombe@hotmail.com. I have no knowledge of how to, nor a desire to use your information in an unethical way, so you have no worries about that.
When we were in California recently we met some ladies at a rest stop who were driving to New York City from Alaska in a beat up old car. Friends, and people they met along the way signed their car. Monte travels!