Archive for November, 2008
Sunday, November 30th, 2008
---

Four pieces will show December 2nd, 2008 through February 28th, 2009 alongside other artists' work at the Oxide Gallery, 501 West Hickory Street, Denton, TX.


Showing are Calgary In September, Gold In The Mountains 02, Mayan Bowl Replica Chair, and Zen Garden 08. Join us at the Show Opening for music, refreshments, and 10% off purchases on December 2nd, 2008, 6 – 9 p.m.
Saturday, November 15th, 2008
---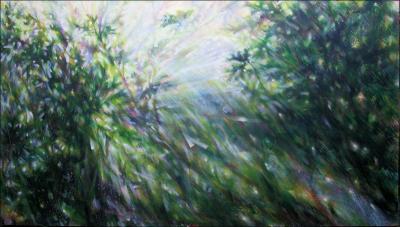 Nov. 15th above the largest thumbnail of the painting are 6 details of Sun Shower 04, 45H x 84W x 3D inches masking medium, acrylics, and matte glaze on canvas, wrapped sides painted. Last few days worth of layering glazes, work in progress. Started May 3rd.

November 10th – Left and right details, continuing to define leaves, not too much though and layering colors of rain and light. Low-light situation today, so the colors shown here are not as vibrant as they actually are.

November 7th – Mask medium has all been peeled off and now layers of matte glazing medium/acrylics color washes gradually bring things to life and into focus.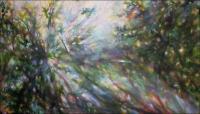 November 5th – Sun Shower 04 after 2nd application of masking medium, but before peeling it off, and a days worth of painting over top of that, changing the species to Oak..
 November 3rd –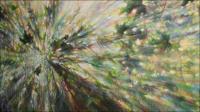 Since Shadows Of Summer (recent, started after this one) is of a Maple tree, and similar ideas of looking up at the canopy will be much more suitable for paintings of the Giant Redwoods and Sequoia, and there will be no duplicates of tree species portrayed for The Majesty of Trees collection, the subject is being changed from Maple to Oak. Above left, Sun Shower #4 before 2nd application of masking medium (usually used for watercolors on paper). This painting started off as a full canvas of Maple Leaves, then changed to looking up at the canopy, and is now being changed again to the original inspiration, the Red Oak in our front yard during a sun shower. Paintings change until they're done. What will not change here is the principle idea: rain and leaves in rays of light.
Masking medium is being reapplied with a toothpick on top of the first version of this painting..has already had a layer of masking medium removed from earlier stages. When most of the contrasts are taken care of the medium will be removed, revealing raindrops of all the colors underneath.
Work on Sun Shower 04 posted earlier this year: * first entitled Maple Leaves  May 3rd   * May 8th   * May 9th   * May 17th  * May 23rd is when the name changed and I decided to experiment with the masking medium.  * June 17th
Tuesday, November 4th, 2008
---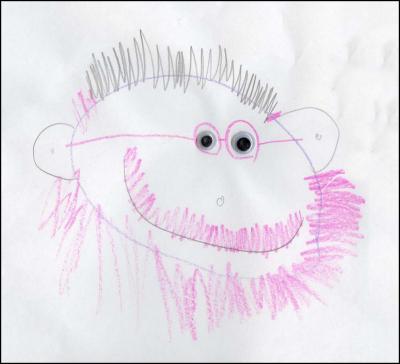 Googly-eyed Grandpa by Evelyn Drury, colored pencils and googly eyes from the $1 store. Says Grandpa: "Even my socks are looking back at me now!"

Evelyn has inherited the relentless Artist's gene. Hooray, this world can use all the creative people it can get. There are so many choices available for her future as an Artist should she choose to make it her career. Creative minds are appreciated as an asset wherever a person chooses to work. Even though she's only 4 1/2 years old, if I have any influence it will be to help guide my neice to #1 have fun learning. Her attention is so sharp, she is capable being an engineer or architect, or she may wish to start her own business. Wherever it leads you, Evelyn, sweetie, I'm there for ya!