Archive for August, 2008
Friday, August 15th, 2008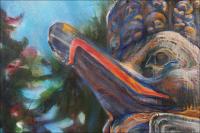 Great moments in painting – the addictive kind – are when you completely lose yourself in the work and time is non-existent. I've had a good week with this one, partly because of struggles overcoming the habit of trying to control the outcome. Things happen in every painting that are not planned, and the endless choices are part of the fun.
At this phase some solid strokes need softening again; finding a balance between the two. The lighting is the biggest challenge so far, plus making a subtle transition in style from top to bottom and foreground to back that will bring our attention back to the top half of the painting. Now, how do I go about doing that I wondered, I only have a hunch. After adding mid-tones a couple of days ago there were second thoughts about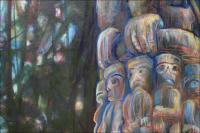 doing so, because the whole painting became dull and flat, entirely not what I wanted it to be. Briefly discouraged, I thought this painting would join the I-don't-know-what to-do-next pile. When unsure I look for answers in the very basics, like concentrating on what I do know for sure, rather than what I don't. 
I do know for sure want the glow of magic, so yesterday took a leap into the darkness with pure colors straight from the tube. There's a huge sense of freedom trying something out – and ironically the more afraid you are the better it is. It's the intermittent periods of doubt that spur determination to conquer issues and at the same time entice you to quit!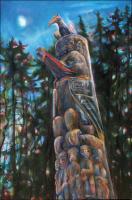 Painting is considered to be a two dimensional undertaking, but it's so much more. While lost in the work process we explore all the dimensions of the subject plus the deeper dimensions of ourselves. While painting we discover our convictions and the means to ask how far are we willing to go to stand up for them.  Work every day is about continually reevaluating decisions, taking responsibility for choices made, being honest about mistakes, shortcomings and limitations of media and self, and digging deep to find technical and intuitive solutions. It's about control of all those elements combined with easing up on trying to control too much. All this and more translates onto a flat surface as we hope to give the illusion of depth…if that isn't magic I don't know what is!
Links to the progress of this painting on this blog: Started July 17, 2008,  progress and specific information  about this totem pole in the July 24th post.
Post-dated Note: When choosing this totem pole that is erected in Thunderbird Park at the RBC Museum in Victoria I didn't realize that it's the same one that Emily Carr painted in 1928. More magic! Here is a link to more information about this totem, the Gitxsan Pole moved from Gitanyow (formerly Kitwankool) B.C. Also on the July 24th post
Wednesday, August 6th, 2008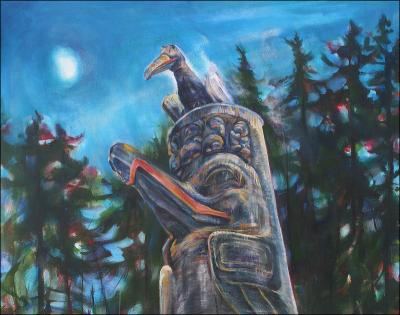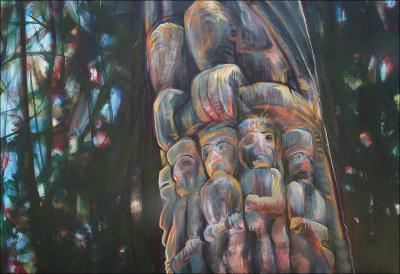 Started July 17th, I've tried various ways to have our eyes sweep up to the top half, like creating an abstract of wide brushstrokes of dark and light, plus scrubbing areas away that almost hide the bottom characters. It's covered up since with more paint, but I may return to that idea when the proportions are corrected.
A camera captures all the details, but when we look at something our eyes focus only on one area at a time. In a photo, with the bottom portion of the totem clear it makes sense, but not in the painting. Most of the detail will be toward the top of the statue, but the bottom deserves as much attention, just of a different kind. The colors are starting to come together in a way that will imply light from the sunset and moon glow coming from opposite directions.
A word here about Artists' appropriation of First nations or any other cultural/historic works: subjects are painted with due honor and respect, with purpose to study and draw interest to the importance of appreciating our multi-cultural world and the unique characteristics of each and every culture…this is what Artists do. Our differences as cultures are reconnected, as there are many common traits and themes expressed through Art through all of time, everywhere.
Robert Genn and readers of The Painters' Keys have some very interesting comments all around the board about this topic.
Sunday, August 3rd, 2008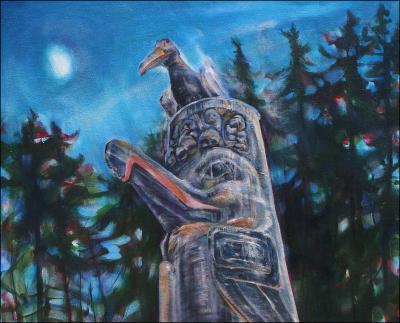 Magic Hour detail image, top half of 60 x 40 x 3 inches Acrylics on canvas. I decided not to lighten the background after all — am leaving the background as is with loose brushwork in contrast to the totem pole which will be much clearer. To achieve the weathered look I'm using a dishwashing scratch pad to remove some of the paint. Work in progress.
Saturday, August 2nd, 2008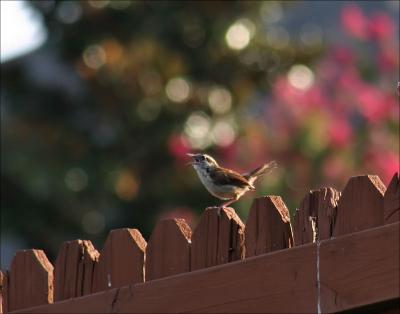 Alain built a birdhouse during Spring hoping to start a bird-cam, but no luck until today when these little wrens moved in. We're really excited to get the bird-cam working and hopefully watch them raise their family. According to the Peterson Field Guide they look like Carolina Wrens..or they could be Rock Wrens…does anyone know for sure?