Archive for July, 2008
Thursday, July 31st, 2008
---
Post-dated not February 2009: Thanks to individuals rallying together and signing the petition, we are reassured that even small efforts do make a difference on this planet. The land surrounding the Angel Oak is no longer in jeopardy.  http://www.savetheangeloak.org/
~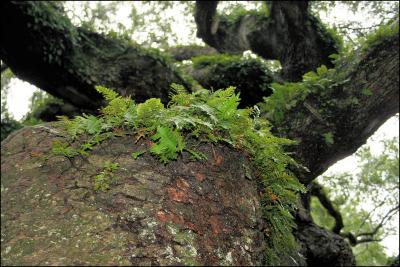 This set of photos honors the efforts of a petition to halt construction on John's Island, South Carolina that would encroach on an area of land boasting an Oak tree estimated to be between 1,400 and 1,500 years old.
Charleston, SC is proud of its heritage and respected for its commitment to preserving history in the area, so residents hope that plans will not proceed to cut down nearby trees and forest in favor of land development.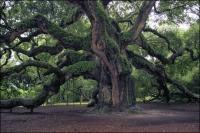 On the petition website, even if you don't sign you will be able to read pages of interesting comments and pleas from residents who have fond memories of climbing the immense branches as children, how a nearby elementary school carries its name, and exclamations by tourists who have visited the area specifically to see the Angel Oak.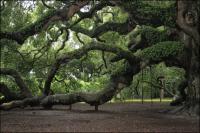 This summer my husband and I drove through South Carolina and took a short detour to John's Island. We drove through wicked rains at the edge of Tropical storm Faye, so when we arrived at Angel Oak park no one else was there. The tree trunk and lower branches are so immense, they have been propped up with stakes and heavy cables here and there, which is a little intrusive but obviously necessary. Growth is spread outward more than upward, occupying an enormous space at least 150 feet wide.
It occurred to me that this tree has lived through one serious chunk of history, and wondered what was happening on our planet when The Angel Oak was knee-high to an acorn? 1400 years ago it was the year 608 A.D., Common Era. Almost everything we are familiar with; our collective modern identity has been shaped by many of the events and people who lived and died since the Angel Tree established its first roots in the earth.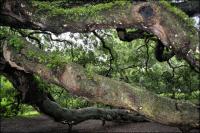 Angel Oak's parent-tree was undoubtedly alive for centuries before and during the year 476 A.D. when the last of the Roman emperors died, bringing about the Fall of Rome. Around the 7th Century A.D. an acorn falls from one of the magnificent Oaks on the southeastern shores of a land only known to the indigenous peoples; a land we now refer to as North America.
The acorn sprouts along with many others…but this one will outlive the rest, seasoning hurricanes, wars, and countless generations of playful children climbing it's branches; it sprouts in conjunction with the collapse of Teotihuacan, one of the major cities in Mesoamerica with widespread influence in central Mexico. The Toltec civilization was unheard of, and would not flourish for another 500 years (1100-1521). Aztecs did not seize power until the 13th century.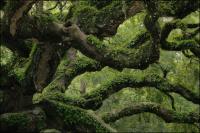 When this tree was 300 years old during 901 A.D., the Vikings discovered Greenland. In 1066 William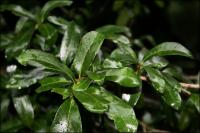 the Conqueror and the Norman troops conquered England altering the English culture forever by bringing French rule and rivalry with France until the The French Revolution occuring from 1789 – 1799. Circa 1100 A.D. the famous Buddhist temple, Angkor Wat in Cambodia is constructed to house the Hindu faith, then around 1275 A.D. Marco Polo, the Venetian explorer and trader visits China via the The Silk Road, returning to Europe with new foods and goods from the Orient which impact modern culture, medicine and dietary habits today.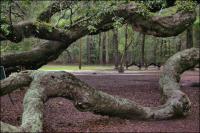 The Black Death devastates Europe around 1348 A.D., while the 740 year old Angel Oak thrives. Columbus and other adventurers would not claim to discover America for another 144 years (C. 1592). Leonardo da Vinci, a man light-years ahead of his time in the field of science and medicine through his various studies. By the time he would paint the Mona Lisa and Michelangelo would paint the Sistine Chapel, the Angel Oak has lived for 900 years. The Tree continues growth beyond the life of Galileo, mathemetician and father of modern Astronomy, and through the life of Shakespeare, who established some of the most famous English literature in our era (c. 1564 – 1616).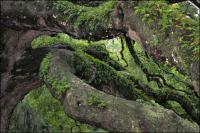 Year 1776 – Angel Oak is 1,166 years old when the U.S. breaks free from British rule and establishes the first Independence Day In 1895, and by the time the Angel Oak had already survived for 1,287 winters Sigmund Freud would bring modern medicine and humanity into a new open-minded age by announcing his theories of dream psychoanalysis and studies of the human psyche. The First World War between 1914-1918 was followed by WWII, 1939 -45/51.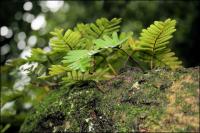 According to the Angel Oak website, after the Category 5 Hurricane Hugo hit the coast of in 1989, Governor Carroll Campbell is reported to say that the storm destroyed enough timber in South Carolina to frame a home for every family in the state of West Virginia. All those trees and forests obliterated, yet The Angel Oak survived. It has since healed injuries inflicted by Hurricane Hugo.
Aren't there enough people who empathize with those who live on John's Island, whose sentiment toward the tree that symbolically links them to family – present and past? Aren't there at least 20,000 people in the world who care about the sensitivity of every single Coastal ecosystem? The petition is looking for only 20,000 signatures, and has over 900 as I write this post. Here is the petition link.
To view more photos of the Angel Oak click here, and to view more photos of trees click here.
Wednesday, July 30th, 2008
---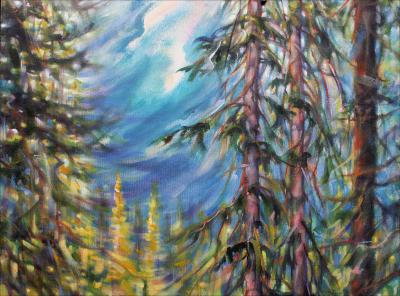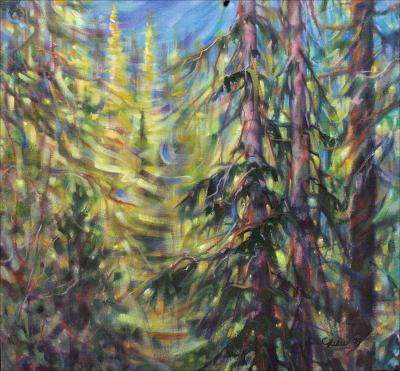 Started April 7th this year, Rocky Mountain Vista received a face lift this week before I brought it in to be judged for a local exhibition. There are subtle but positive improvements compared to when I posted it as finished on April 13th. Progress can be reviewed on the April 9th blog post. It is now well and truly finished!
Wednesday, July 30th, 2008
---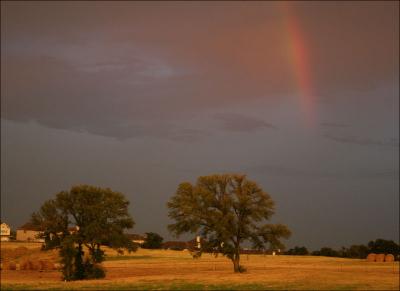 Rainbow at sunset and Oak trees, Lewisville Texas
Monday, July 28th, 2008
---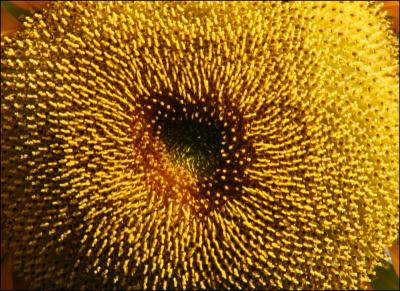 A new heart shape in nature to add to the series today.
Sunday, July 27th, 2008
---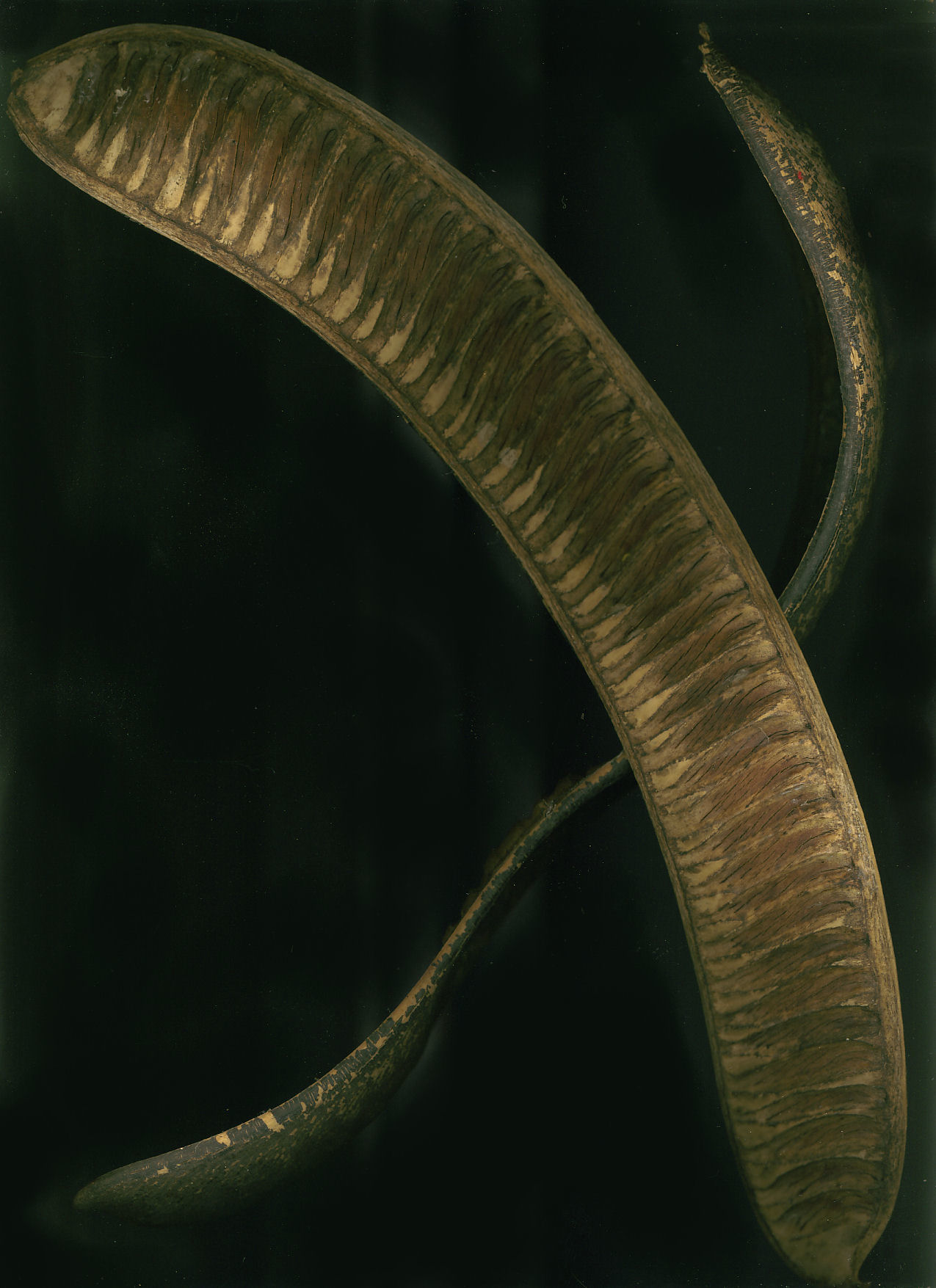 ---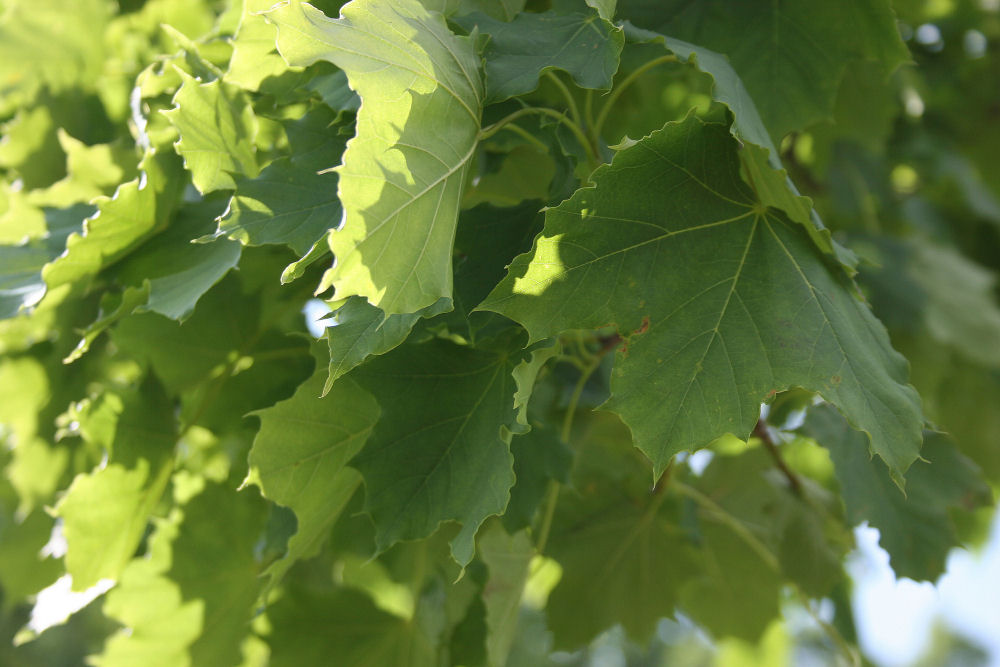 My Dad recently gave me a few Art books of his. I remember browsing through them when I was younger. He always left his books out laying around on the tables, intending to plant the "drawing seed" in me, and it worked. One of the books Is about the art of  M. C. Escher. What a mind! You can't help but flip through pages of art like that and not be inspired.

This week I was also organizing my photos of leaves, seeds, and bark that I took specifically because of their outstanding design. Looking through the books plus my photos compelled me draw a few designs I've had in mind for a couple of years. I may paint some large one-of-a-kind cushion covers using a few of the best.


There is no substitute for a good old fashioned pencil, but it's sure fun to play with the Paint Shop Pro effects, cut and paste, repeat patterns. The drawing combined with computer play have me appreciating Escher's work so much more. He did not use computers at all.
Thursday, July 24th, 2008
---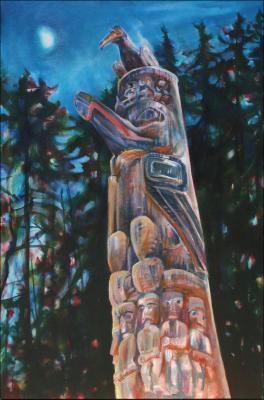 Magic Hour, 60H x 40W x 3D inches acrylics on canvas, work in progress.
Art history is human history. What we call Art is the expression of individuals finding connection with our humanity; who are we? How do we respond to our surroundings and who are we in relation the things we depend on for survival? Standing in front of the Totems I realized that the answers we sought long, long ago are the same, and the things we love now are the same things people have always loved. As Artists and Art Viewers we'll never  Museum venture far from subjects that speak to the heart.
The originals of all the totem poles erected in Thunderbird Park on the grounds of the Royal BC Museum in Victoria, Canada are now protected from the effects of weather inside the museum. The totem portrayed in this painting is a replica of the Gitxsan Pole that was moved in 1958 from Kitwankool, BC. This version of the pole is named Skim-sim and Will-a-daugh, belonging to Chief Wiha (Wee-kha, Ernest Smith), the chief of the Wolf Clan: only the top 3/4 of the totem is portrayed. Due to deterioration caused by weather, the originals of all the totems in Thunderbird Park are now erected inside the museum and are replaced with replicas carved by Mungo Martin, chief carver, Henry, Tony and Richard Hunt (this one 1960).
Symbols/crests: The bird at the crown is a giant woodpecker (wee-get-welku). Legend reads that a female ancestor kept a pet woodpecker, feeding it so much it grew to be a giant monster that ate everything made of wood until it was killed. It sits atop 5 human figures who stand on the head of the Mountain Eagle (Skim-sim),  who kidnapped and mated with a woman then devoured their offspring. The eleven small figures are humans fishing through holes in the ice. Under them and not pictured in the painting is Will-a-daugh, also known as "Person With a Large Nose", holding her child who was conceived from a wood grub.
Thursday, July 17th, 2008
Magic Hour, 60H x 40W x 3D inches acrylics on canvas, wrapped sides painted, work just started. This is the top half of the magnificent Gitxsan Totem pole, one of the Haida totems in Thunderbird Park near the Inner Harbor downtown Victoria, B.C.
The drawing is sketched with Alizarine Crimson and Red Oxide base. We were there a week ago just as the sun set, shining light on the right side of the totems and rising moon light lit the left side. I changed the tree silhouette to a typical B.C. horizon of tall Red Cedar, whereas the trees in that park are Maples.
Tuesday, July 15th, 2008
---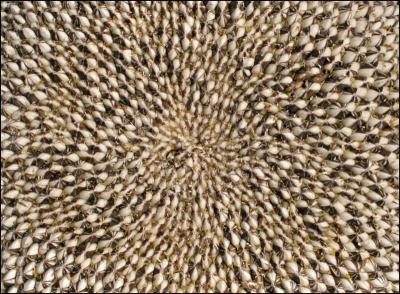 The whorl pattern of Sunflower seeds on this large seed-head has a hypnotic effect. (You neeeeed to purchase my Artwork!)
Two more interesting garden pics: tendrils of a cucumber vine reaching out like hands, grasping dead sunflower leaves…and the outer petals of a sunflower bud.
Monday, July 14th, 2008
---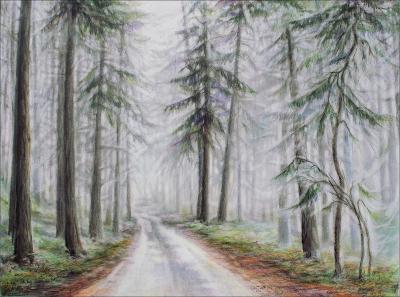 Salt Spring Island Fog, 18H x 24W inches graphite, eraser, dry pastels, colored pencils on paper, burnt umber frame size 29H x 35W x 3D inches, accepted for the Visual Arts Society of Texas 2009 Calendar. All accepted original works will be displayed. Meet the Artists and purchase a signed calendar (or more!) on November- December, 2008 at The Chestnut Tree in Denton, TX.
Post-dated Note: Article published in the Denton Record Chronicle, Entertainment section February 8th, 2009
Sunday, July 13th, 2008
---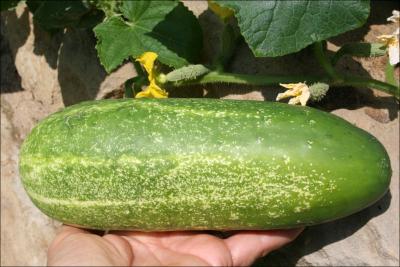 After two weeks away, one of the first things I did was inspect the garden, most curious about the cucumbers, because it's the first year they've survived this far into the season. There I was at midnight, feeling around in the dark, and found a cucumber that had grown from 1/2 inch long to 8″L X 3″ wide during that short time. I expected to find a virtual Jack And The Bean Stalk situation this morning, but all the other cukes are average-sized. The heart-shaped cookie cutters I placed around some veggies in order to shape them have fallen off, so will have to try again; now able to monitor the progress of growth.