Archive for June, 2008
« Previous Entries
Monday, June 30th, 2008
---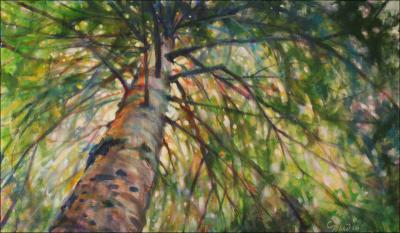 White Pine Bows, 20H x 34W x 2D inches acrylics on canvas, wrapped sides painted, trim frame, just accepted into the 125 Mile Exhibition July 24th – August 15, 2008 presented by VAST in partnership with the Department of Visual Arts at Texas Women's University (TWU).
Opening Reception on July 31st, 2008 5:30p.m. – 7:30p.m. July 31st, 2008 at the TWU Arts and Sciences Building, Denton, TX.
Sunday, June 29th, 2008
---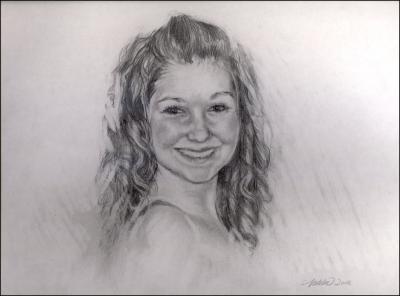 Josee, a portrait of one of my nieces. Gift, 11 x 14 inches graphite on paper. Drawing portraits is like brain surgery – one millimeter off, more or less, in any direction makes all the difference between success or failure!
Friday, June 27th, 2008
---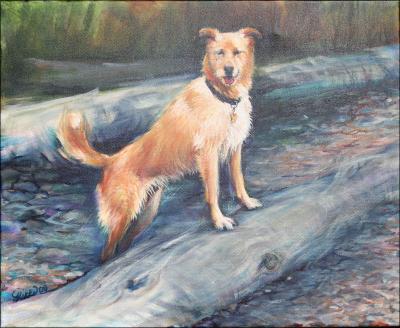 Cloe, 16 x 20 inches acrylics on canvas
I don't know if I'll be able to finish 'The Fourth of July' as planned in time for the American holiday. Leaving for Canada on Monday, and will be away for two weeks. I've been painting and drawing a few gifts for relatives, one of them this pet portrait. The fur is defined by scratches using my fingernail under a wet cloth.
Thursday, June 26th, 2008
---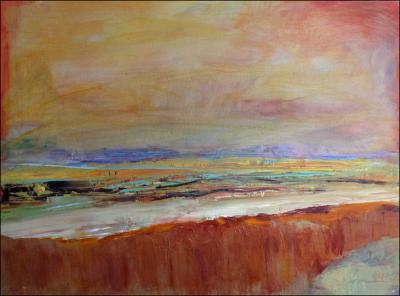 Chris Bolmeiere calls herself an Accidental Artist. Previously a professional actress, she still sings and posts the songs on her blog. Her "accidental" oil paintings are colorful, energetic and expressive. Her methods of painting are rather impromptu: she paints, scrapes away, applies more then removes more, and somewhere along the way a successful painting emerges.
Her crude, straight-from-the-heart illustrations of childhood memories are hilarious; one might be inclined to label them Naive Art, but in no way is Chris naive. This "accidental" Artist is honest and direct with her approach to all of the Arts; painting, writing, singing, whatever, has little fear and is full of fun. Multi-talented, and as the name of her weblog implies: she's Christerical!
Not only that, if you sell her work she'll give you 20%….so, If you buy this painting from Chris and saw it here first, please let her know. I'll give you 10% for telling her, because otherwise you might not…meaning you get 10% off and we'll all come out winners.
Monday, June 23rd, 2008
---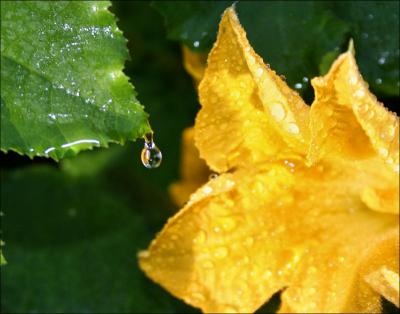 The first of the pumpkin blossoms are opening; they open early in the morning and close fairly quickly. This morning a bee was struggling inside a flower that had collapsed before it finished gathering pollen. When the flower wilts, the sticky soft petals bond together, and the bee would never have escaped had I not investigated where the frantic-sounding buzzing was coming from. I didn't think a tender flower could be so strong!
Sunday, June 22nd, 2008
---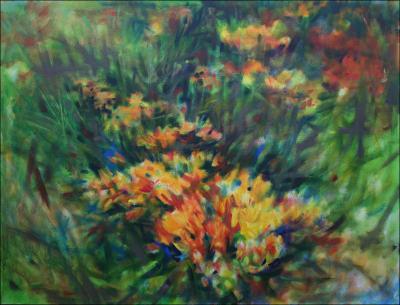 Added darkest values, mapping out the composition more clearly, now will define a few blossoms in the foreground by washing off dark areas and paint with pure colors from the tube and bring back to the cheery lights and brights that were present at the start.
Friday, June 20th, 2008
---
The Fourth of July 01, 36H x 48W x 2D inches acrylics on canvas, wrapped sides painted, sturdy custom built stretcher frame. Work in progress. Rarely do I draw outlines to start paintings.. just start splashing paint in a frenzy around the canvas, responding to the subject matter.
Not only does the Orange Milkweed remind me of fireworks, but it was on July 4th last year that I stopped to photograph the vibrant wildflowers growing alongside the highways in Kentucky.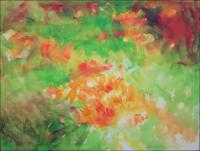 Thursday, June 19th, 2008
---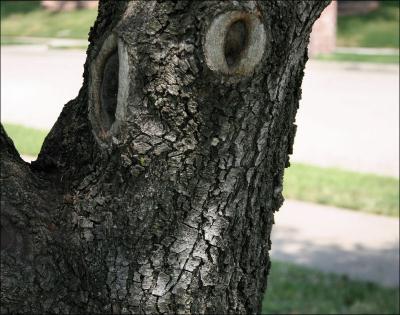 Happy Face – Pecan tree, Lewisville, TX
Tuesday, June 17th, 2008
---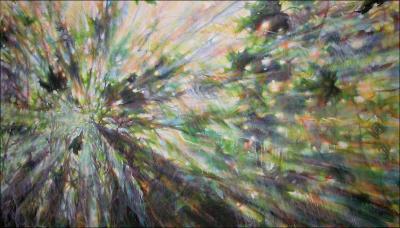 Sun Shower 04 work in progress, June 19th after a layer of white wash; white diluted with matte medium, then am giving the whole surface a layer of streaks of masking medium to bring all that texture out again that was there at the start. Tomorrow will start another painting and study this one before going back into it. My husband said this morning "Uh-oh Nik, you're losing control of it". He's not an artist and rarely comments on paintings, but he sees things that I don't. He saw exactly what I was starting to feel about the work. More accurately, I was starting to take too much control.
June 19th                     June 17th
Sunday, June 15th, 2008
---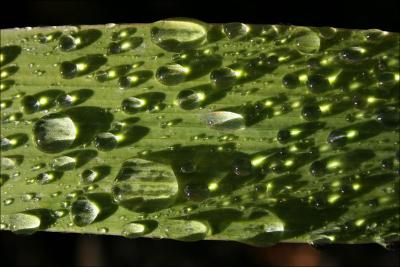 « Previous Entries