Archive for May, 2008
« Previous Entries
Saturday, May 31st, 2008
---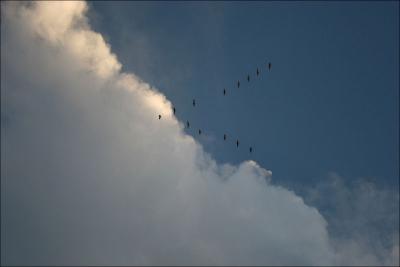 Three nights ago, I was out taking photos of storm clouds in the setting sun, and flock of herons crossed by.
Wednesday, May 28th, 2008
---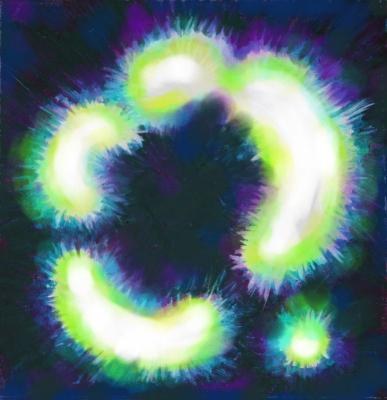 Seeing Spots, 12 x 12 inches oil pastels on paper, scanned and reworked with a digital pen. The sun is so strong today, I was outside for only about ten minutes then came indoors and this is all I could see in front of me.
Sunday, May 25th, 2008
---
I wonder if the Anole that lives indoors with us thought it saw lunch when it climbed near the two photos of strawberries, pictures of my sons when they were two and three years old.
Friday, May 23rd, 2008
---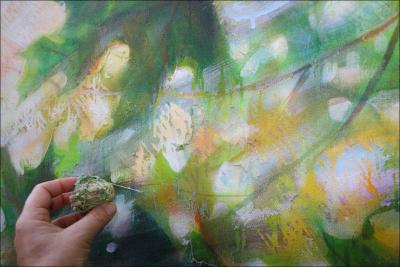 May 30th: Today I'm starting to remove miles of rubberized masking medium. It's so exciting to unravel the results; they look a little like Batik, where wax or resist is applied then removed.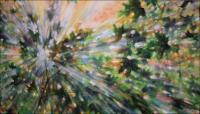 Sunshower 04, 49 x 85 x 3 inches acrylics on canvas. 29th: Starting to build thin layers of acrylics, gel medium and water. As previously posted, when painting is all finished I plan to remove all of the masking medium and reveal the original colors underneath.  Paint catching on the textured surface gives the look of 3D raindrops…very interesting, and in retrospect I don't know why it wasn't obvious that this would occur.
I was mostly thinking ahead about the atmosphere and negative spaces. There are so many things that you can't anticipate or put into a plan, that you only discover by doing, even the obvious. As the painting changes you have to keep changing your plan along with it. Preconceived ideas are a must, but you have to be willing to let go of some and stay open to others. This is what I love so much about painting..how one thing leads to another; planning and surprises working together. Now this will have multidimensional surface of every grade from watercolor-like washes to thick applications of paint.
May 28th: Anxious to finish placing the raindrop patterns and get to painting the light rays. The next layers of paint will resist those raindrop areas. I'm usually content to go with the flow, following how the painting gradually comes together. With this painting I have to think ahead, visualize, and plan the completed piece more than usual. As the canvas fills in more with the resist, mark-making is more strategic. I can't wait to see how it will look when the resist is removed.
May 26th: …am on the third bottle of masking medium. Soon the surface will be ready to start painting light and dark sun rays, layering color washes of acrylics and gel medium.

May 23rd: As I fill in with streaks of masking medium to block off areas of rain, progress is slow because of the painting's size, but I work a little on it every day. Toothpicks keep breaking, and my hand gets cramped and numb after a few hours, so I bought some of the smallest paper pencils usually used for smudging graphite, and those are working out much better. I devised a sort of brush with a few toothpicks taped to a brush handle, but this is awkward to use, and there is not much control over mark placement. One streak at a time.
Thursday, May 22nd, 2008
---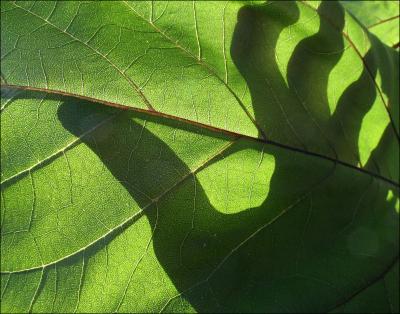 Green Thumb – photography, May 7th: A volunteer Sunflower, must be from last year's seed, sprouted about 2 weeks ago, is already 5 feet tall with very large leaves.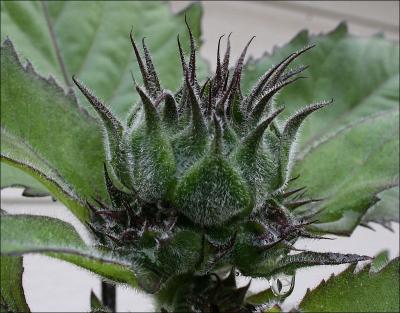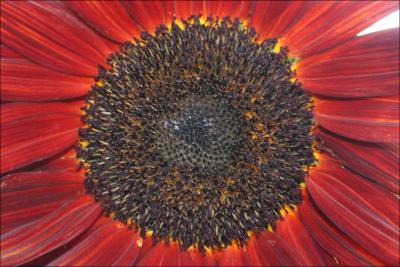 Red Sunflower, photography – May 22nd: the plant is already 97 inches high, almost to the eavestrough today – that's over 8 ft., and growing a few more inches every day. I cut off quite a few of the large lower leaves and some secondary flowers to enable the energy to go toward developing the main flower and seeds, which I definitely want to collect. There are still 19 long-stemmed secondary flowers unfolding and 8 more blooms stemming from the secondary flowers. May 26: With more secondary blooms unfolding every day, the plant is now over 9 ft. high.
June 14th: The main flower seed-head was removed. Only a few seeds may be mature enough to reproduce another plant because most of the energy has gone into secondary buds, then as those mature, smaller third and even fourth successive buds are still unfolding.
Wednesday, May 21st, 2008
---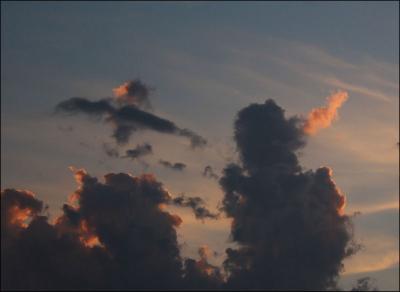 Tuesday, May 20th, 2008
---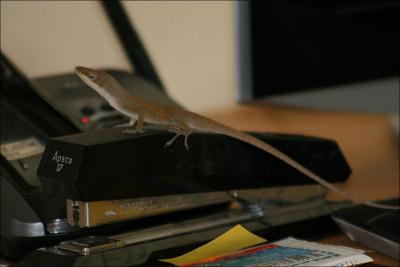 Today my little friend helped with the paperwork.
Monday, May 19th, 2008
---
Magnolia trees require so much energy to bloom, when they do the older leaves die and drop to the ground, temporarily leaving a rather shabby-looking tree and leaves on everyone else's yard too. Above: a honey bee checks out the other side of a flower, and next: a flower in transition.
Saturday, May 17th, 2008
---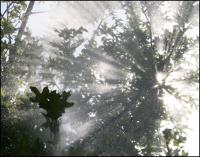 I inadvertently leaned the large painting of Maple Leaves  near the framed photo of Sun Shower 03 that hasn't made its way to storage yet after a show.
Ever since I took that photo, left, last summer I have wanted to use the idea of dramatic light rays in a painting, but not until this morning did I think to use it in Maple Leaves. One idea leads to another; I'm also going to use some tricks I learned during the painting of Sun Shower  01 (2007) where Watercolor masking medium was dotted on the canvas with a toothpick in areas where I wanted water droplets to remain white or lighter in color.
The thumbnails here are details of that work. It worked great but I removed it too soon before finishing and the results weren't as obvious as I had hoped, so this is another chance to try again. This time it will be creating small streaks, left it on much longer so the vibrancy of all the colors will show through when the medium is pulled off.
The painting could be left as 'Maple Leaves' which is how it started out, but it has that bright glare acrylics are notorious for and I see a lot of potential in trying something fantastic with this painting. It's one of those huge decisions made at key moments in the life of a painting – to risk or not? The 84 x 45 x 3 inch Maple Leaves title is now changed to Sun Shower 04.
Friday, May 16th, 2008
---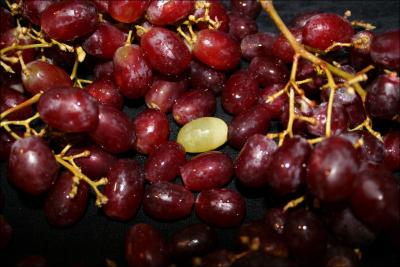 Black Sheep Grape, and a Photo Smoothie
« Previous Entries