Archive for November, 2007
Thursday, November 29th, 2007
---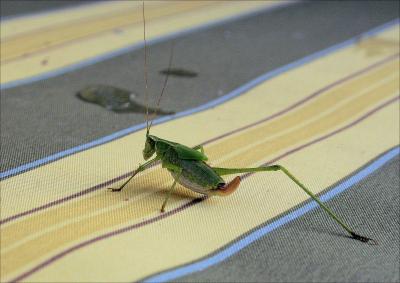 One of the things I love about living in Texas is that we still hear crickets in the evening during November. This one is a survivor with one leg half there and part of one antennae missing. Those big eyes followed every movement.
Wednesday, November 28th, 2007
---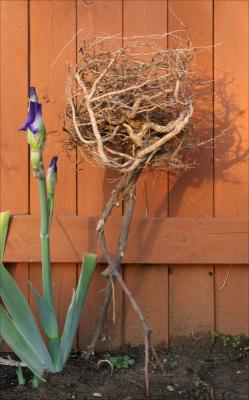 While tidying up the garden and shaking out the soil from dead plants I was marveling at the root systems and couldn't bring myself to throw this one away, it's so interesting. This one is from a dead Croton plant, stuck into the ground upside down makes a unique garden sculpture.
Below: Croton, 1992 36 x 24 inches acrylics on canvas (private collection, Scotland).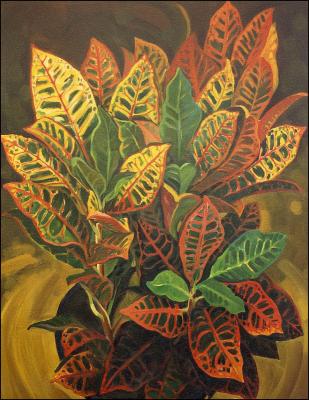 Monday, November 19th, 2007
---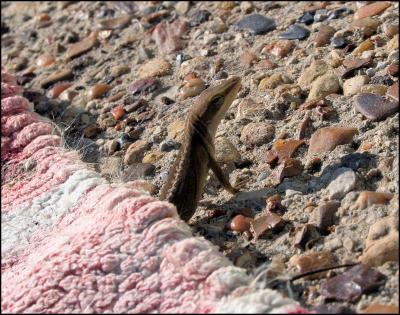 Today there were three anoles playing in a warm sunny area by the back door, changing shades of brown and green. There was a lot of rain earlier in the year, so that must be why there seems to be more this year than in the five years we've lived here.
Friday, November 16th, 2007
---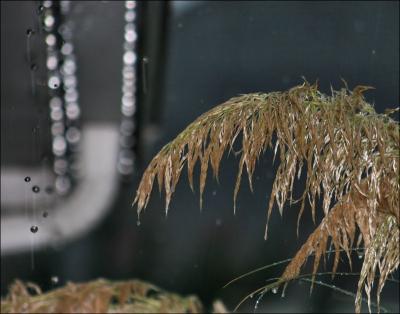 Thursday, November 15th, 2007
---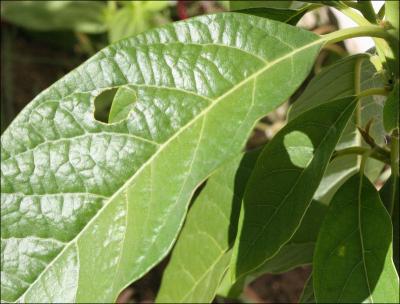 It's still warm and sunny in Texas, and caterpillars are making art in the garden!
Sunday, November 11th, 2007
---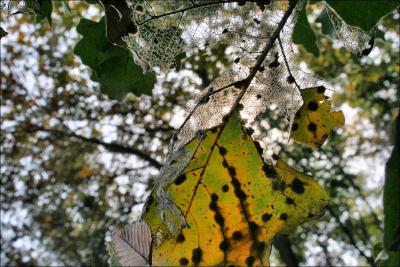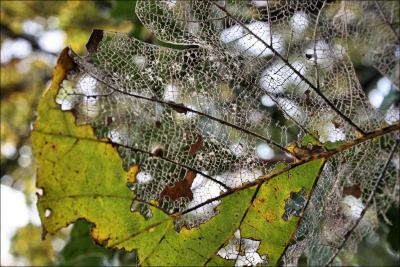 While photographing the filigree on many of the decaying oak leaves in a park forest, leaning backwards with my head in the branches, a little green snake struck out at me, the delicate body about 8″ long and no wider than a baby finger. I wrote to the Biology Dept. at Texas University, and they identified it as a Rough Green Snake – Opheodrys aestivus – it's non-venomous.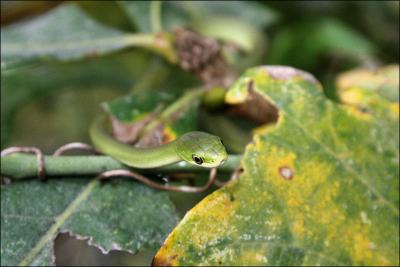 Walking back home completely happy to have chosen that path, expecting no more treasure for the day, a leaf twirled in the breeze, hanging from a spider web strand.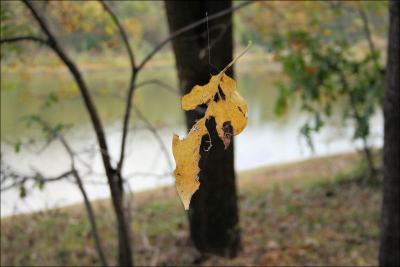 Sunday, November 4th, 2007
---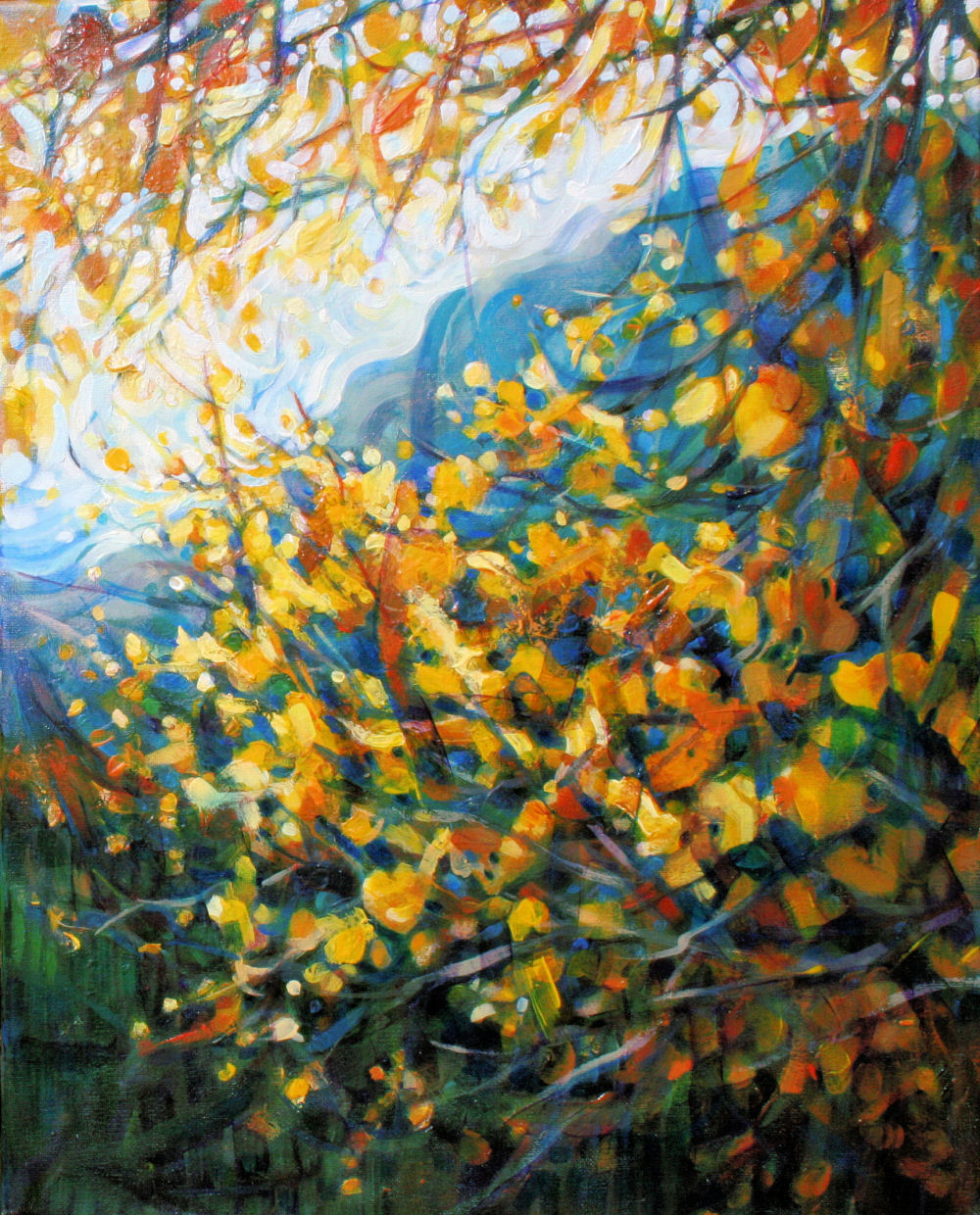 Gold In The Mountains 01, finished – 20H x 16W inches acrylics on canvas, 28H x 24W inches total, dark stained antique frame with gold trim
Started late in 2005, Gold In The Mountains 01 has evolved through many changes to achieve the finished painting above. The first thumbnail shows the painting at a stage where I thought it finished so entered it into Artjury.com's 2006 Spring/Summer online exhibition. It was accepted, and at the time I liked the larger areas of flat orange-gold, but about six months later it seemed all too flat. The work needed more depth and the dark branch across the upper portion stood out, so I began a long process of scrubbing off, building back up, scraping, repainting, etc. The painting reached a few different stages where it could have been called finished, but I was not entirely pleased, so continued. Here are a few stages in the transformation of Gold In The Mountains 01:
---
$550.00          

---
Thursday, November 1st, 2007
---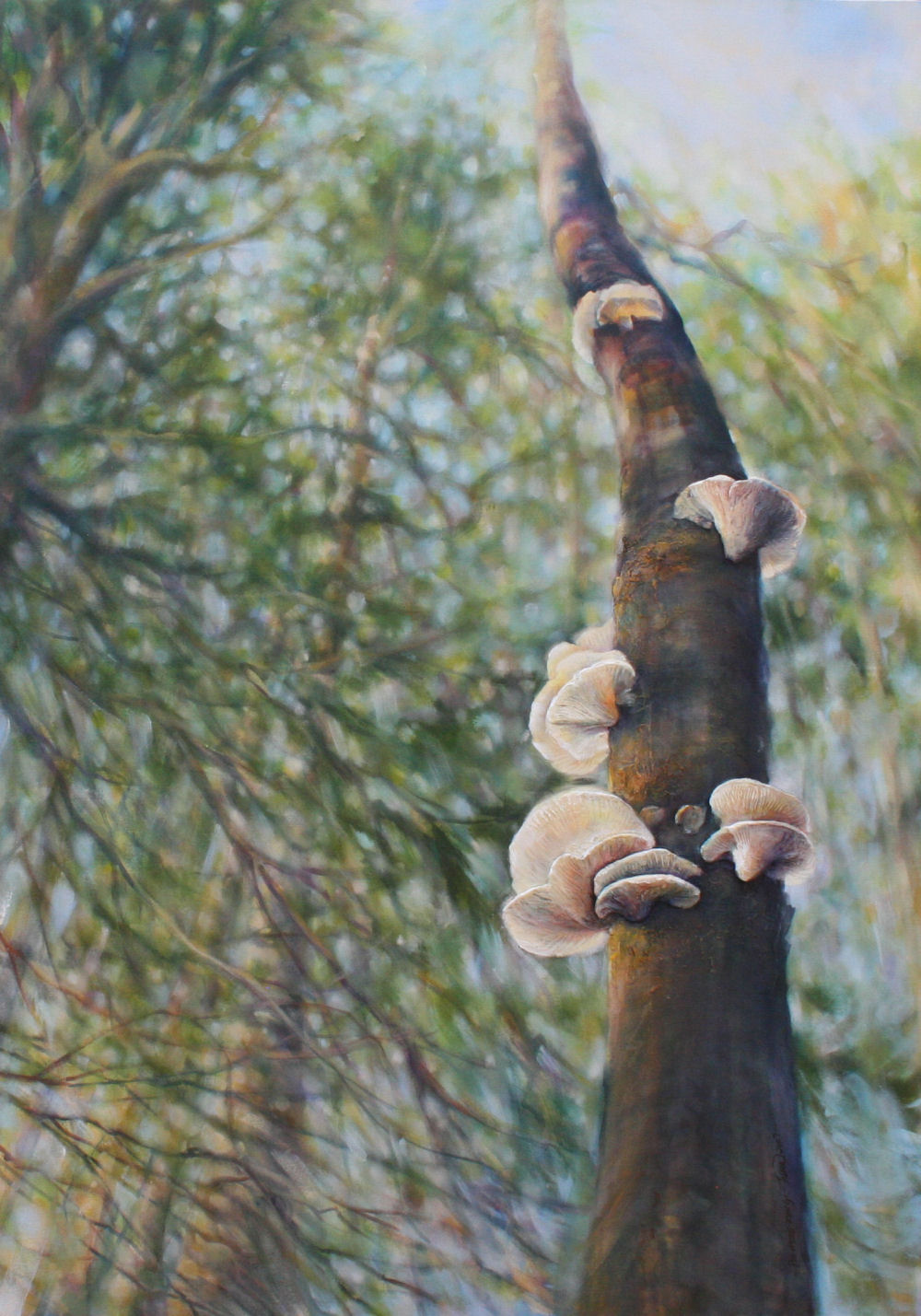 Polypore Fungi  finished – 58H x 41W x 1.5D inches, acrylics, modeling paste, plaster on canvas, wrapped sides painted, narrow frame
One of the goals for this painting was to see if a composition could remain balanced with the main subject offset to the right. With Petra's suggestion there is more contrast, also scrubbed some paint away for more background to show through.
Mushrooms, bacteria, molds, lichen and other non-flowering plants are lesser appreciated life forms that help maintain the healthy life cycles of forests by aiding the decay and conversion of plant and animal matter into nutrient-rich soil.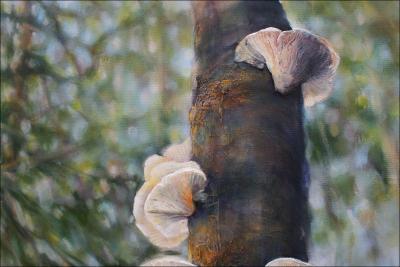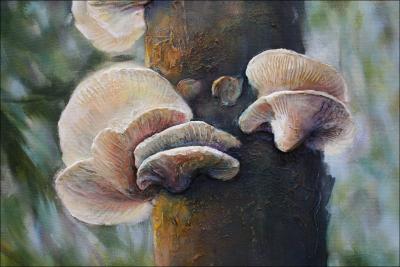 ---
$750.00          

---