Archive for October, 2007
« Previous Entries
Wednesday, October 31st, 2007
The 3D fungi idea was fun to try. I ended up carving the modeling paste and plaster after it dried because the paste was too goopy and hard to manage while it was wet. The paste was applied then built gradually, letting it dry before applying more…then carved. Commercial Modeling paste does not sand well at all, so I finally applied a bit of drywall compound to help tidy it.
Tuesday, October 30th, 2007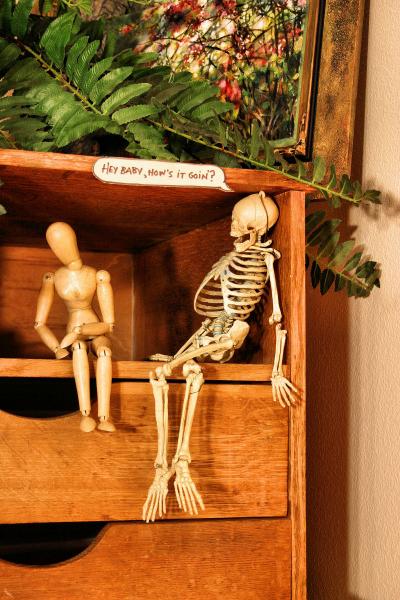 "Hey Baby, How's it goin'?"
Monday, October 29th, 2007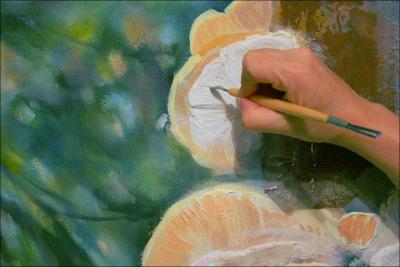 I discovered that thick modeling paste can't be sanded, so smoothed over areas of the modeled fungi with drywall compound.. sanding, scraping and defining these areas.
Monday, October 22nd, 2007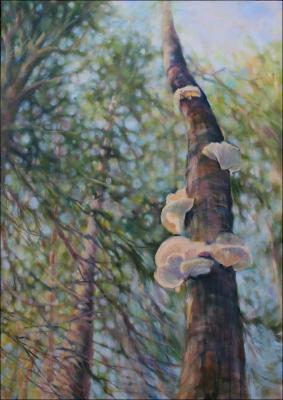 Polipore Fungi – 59 H x 41 W x 2 D Phase 3
(Work In Progress)
Acrylics painting started in June, hung and studied in the loose-phase state; cautious about overworking it. Plans this week: most everything will stay out of focus, with details only on the fungi (starting that next), using a little modeling paste to sculpt the fungi.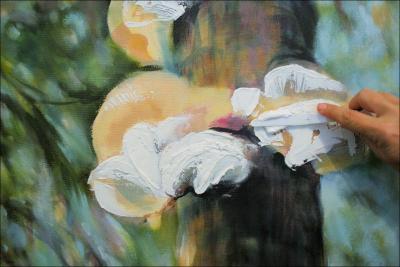 Oct. 22: top photo Oct.23: Above, modeling paste applied in layers, drying in between - applying too thick creates cracks and unstable structures. This needs to be permanent and adhered well to the canvas.
Sunday, October 21st, 2007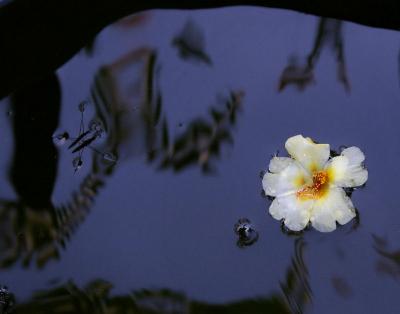 Watching the water striders in the pond in our back yard, and the perception changed a little, like it does seeing the expanse of the Grand Canyon or driving toward mountains. Interesting that something alive is so weightless, yet with enough mass to be able to walk on water. Click here to see more photography.
Friday, October 19th, 2007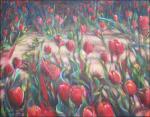 Left: Update, February 2010
Dandelions – 16 x 20 inches Acrylics on stretched canvas. Dark brown stain, maple wood frame with red trim design. Total size 22 x 28 inches.
Tulips as a title would have been too obvious. Dandelions are persistent. Likewise, I'm pleased to have persevered through the course of painting this one; it went through many changes and I learned a lot.

Gradual build-up of textures and colors, layers of piling on, scrubbing off, and reapplying paint are what made this work interesting to work on, and looking closely at the details, those parts show through. 
Popular advice is to say quit and start another when a painting isn't working out, especially if it's past it's supposed prime. While that advice might work for some, there's a lot to be accomplished through perseverence, especially if you have a strong feeling that there's something more to strive for. We sense intuitively when work has lost hope and if it's finished or not. Each piece is unique, and we really have to trust ourselves and what's happening in the work itself. Painting with pure color in Firewheels, plus grey scale drawing earlier this year really contributed to finding a way to finish this painting.
Below various stages of completion:





Saturday, October 13th, 2007
1. Firewheels 18 x 24 x 2 inches Acrylics on canvas, see previous post for more details.
2. The masking medium was rubbed off, revealing marks that were hardly noticeable when placing them there (applied with a toothpick). The abstract scribbles are interesting; the fresh pure life in both marks and color will stay.
3. I've set a time limit for this one for the end of today, something I don't normally do, but the restrictions should ensure that it doesn't get overworked.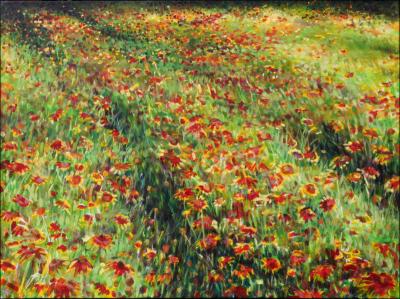 4. Firewheels finished. All the detail drawing I've done recently is almost the opposite of this painting in every way. Feeling successful in that I was able to stay away from the desire to perfect everything, because the original intention was to loosen up, grab some life, and create an impressionistic pure color painting.
Post-dated note: This painting was accepted into The 23rd Texas & Neighbors Regional Art Exhibition, April 26 – May 24, 2008, Irving Arts Center, Irving, TX.
Friday, October 12th, 2007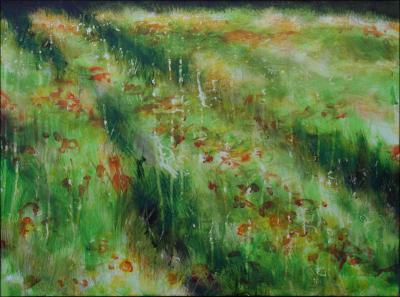 1.
1. Started a small painting last night that I've been wanting to do since Spring, of Firewheels (Gaillardia). Masses of them come back every Spring in a nearby feild.  I started with dots of masking medium, and am fascinated these days with dripping water over damp paint…also determined with this one to maintain the very loose open brushstrokes and marks.
Tuesday, October 9th, 2007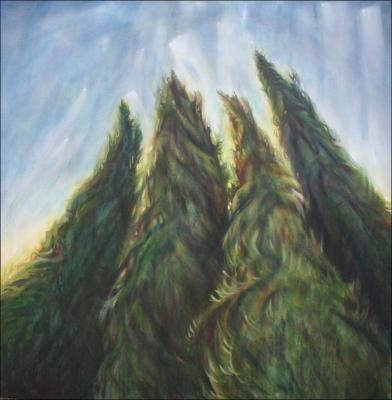 Dancing With Trees 02, 48H x 48W x 1D inches acrylics, matt and semi-gloss glaze, and semi-gloss varnish on canvas
Layers of acrylics-glaze washes used in final stages: Hansa yellow light, Pthalo blue, Pthalo green, Permanent green, thio violet, Mars black, Cadmium red light, Dioxazine violet
This piece is an example of work that does not reflect the original vision I had, but is turning into something much more interesting. I'm not giving up on this one even though it may be past its prime…but don't most paintings need a rest period before the direction is obvious? I do feel that I'm on to something here, and keep trying things to enhance the character of the dancing trees, and the lighting.  Sometimes the ambition about the subject  overtakes the wisdom to see when it could be finished…or more to the point, when it's acceptable as finished. Who decides? Inevitably, the one creating it, right? …and I'm always looking for paintings to be more than just acceptable, which means that in the searching, there will be many failures. I typically take things beyond their prime..on purpose. There is always potential for success, even if a painting may have passed what you think is the point of no return. How will you ever know if you don't try?
Dancing With Trees 02,  started August 30th - 48 x 48 Acrylics on canvas – several progression details posted on different dates are combined in this post. The Oil Pastel with the same name, first version, posted in March 2007, inspired the painting.
I've tried lots of new things with this one – am hoping to keep just the impression of branches; I don't want too many details.  Using washes and glazes to help create the cedar branch texture I've dripped water, paint, glazes, and varnish across patches of color, splattered it on with a brush and also painting upside down.
Monday, October 8th, 2007
… a word about competitions, online galleries and juried exhibitions…
Acceptance by peers means a lot to Artists because most of us work alone.  Accepted works or not, honest feedback and interaction with those who also love what they do, know what they are talking about and enjoy discussing it is always beneficial. If a juried exhibition is local and you're able to attend, there you see other Artists' works in person. We encourage each other, and an honest critique goes a long way. Honest critique and rejection of work entered into shows can also be useful; any kind of response offers chances to reconsider details and the direction of our work, and what we might or might not change in order to have it be more successful. (in the eyes of the public and/or as personal challenge).



  Three works accepted into Artjury.com's 2007 Fall / Winter National Online Juried Exhibition: Galahs in Traffic, Mayan Bowl Chair, and Linden Sunset. The Award winning Mayan Bowl Chair won placed Second in the3D Category at the Grand Prairie Arts Council Juried Exhibition and Sale Sept./Oct 2007.
« Previous Entries