Archive for August, 2007
Next Entries »
Saturday, August 11th, 2007
---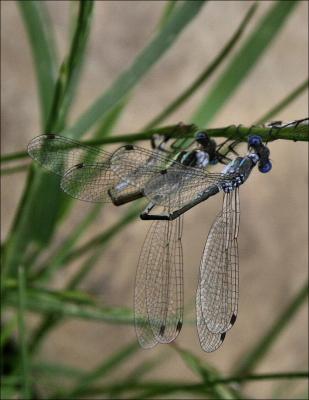 … just returned from Alberta, where this summer's hot temperatures have maintained high numbers of dragonflies and damselflies. These ones will have offspring born in Airdrie, just outside of Calgary.
Saturday, August 4th, 2007
---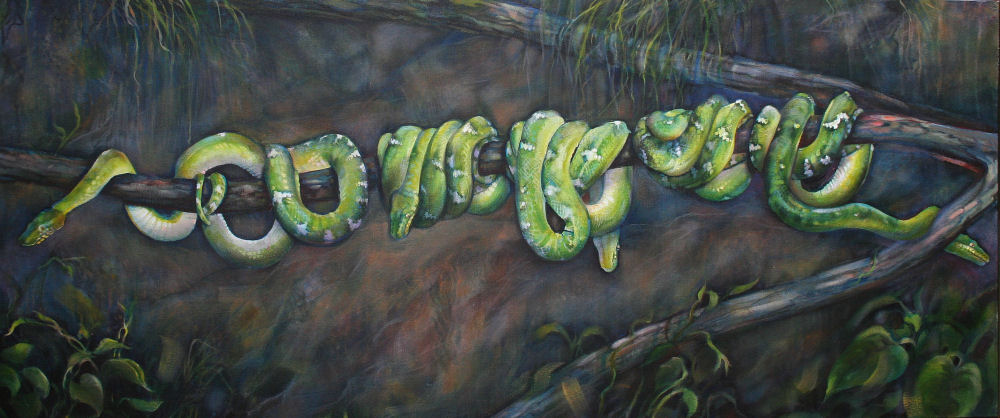 Emerald Tree Boas, 24H x 57W x 2D inches acrylics on canvas, wrapped sides painted, trim frame
A study in progress for who knows how much longer, this painting accumulates finer detail than is typical of my work, except in graphite illustrations. The boas are one of my favorite exhibits at the Dallas World Aquarium (Texas). Their beautiful green skin has striking black and white scale patterns along the spine and a turquoise mother-of-pearl overall sheen that's visible at certain angles where the body delicately curls and bends.
Emerald Tree Boas has become like an old friend, even hanging out celebrating holidays in the dining room with the rest of us. It would be nice if this painting could carry enough potency to alter the automatic responses of fear and disgust that are associated with snakes.
Emerald tree Boas' Merry Christmas – hats made with construction paper and cotton balls taped on
Next Entries »