Archive for February, 2007
Wednesday, February 7th, 2007
---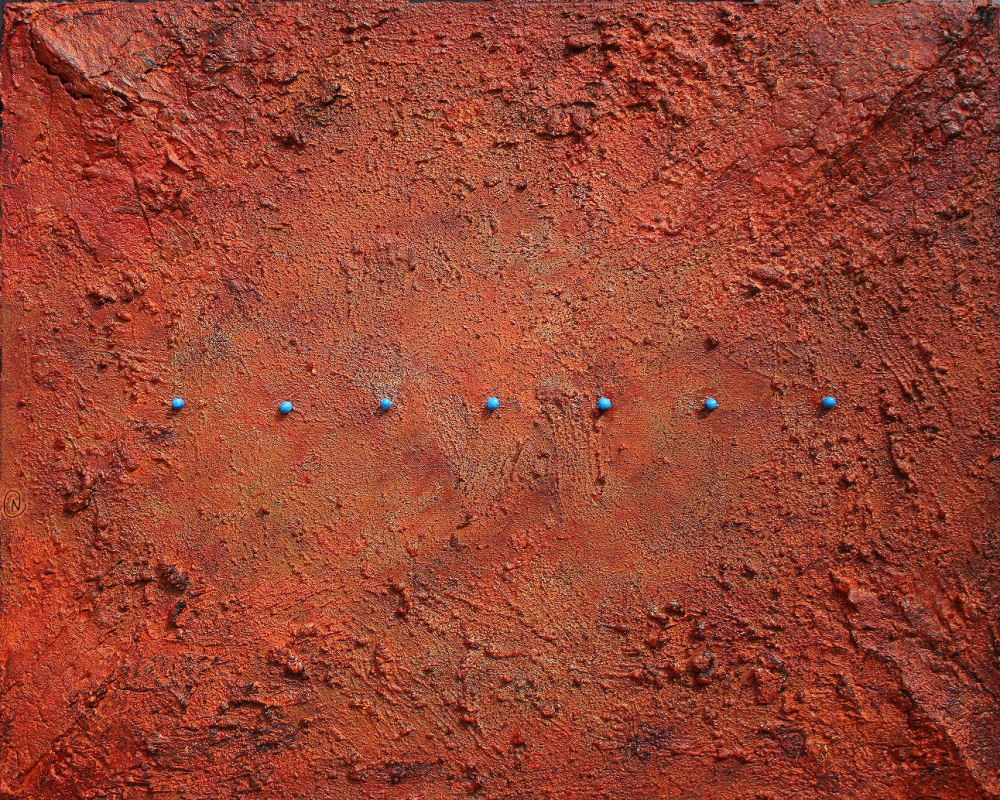 Four Corners, 16H x 20W x 1 inches acrylics, Arizona sand, thick gel medium on canvas. Inspired by the Four Corners area of western U.S., where Arizona, Utah, Colorado and New Mexico meet. The rocks and soil vary rich shades of red, and turquoise has been treasured and used in everyday objects by Navaho and other tribes in the area for centuries.
---
$150.00          

---
Thursday, February 1st, 2007
---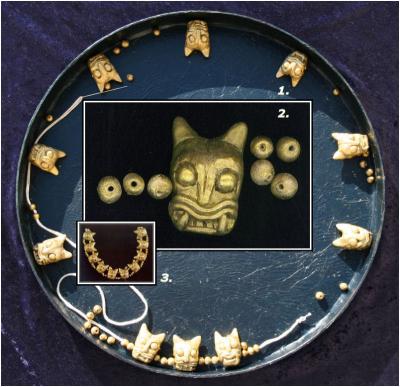 1. the tray  2. the beads  3. a picture of the original necklace.
The Pre-Columbian Jaguar Beads  are made of Polymer clay, a permanent material once baked, acrylic paints, varnish, tray re-purposed and paper-mached, painted and varnished for durability.
I was drawn immediately to this Pre-Columbian Mayan necklacewith jaguar beads upon seeing a photo of it, and would love to own it. Well, making one is the next best thing! The original necklace of gold jaguar head-shaped beads was made over 500 years ago, discovered in a tomb in Guatemala.
Like much of the pre-historic and tribal art that looks crude or seems like it should be easy to recreate, there is a lot more here than meets the eye. One of the things that's so enjoyable about a project like this is experiencing the same design dilemmas that the original artist might have encountered. There is a lot of engineering in that simple-looking necklace! I think the goldsmith who created the original might have used a mold because each individual jaguar head-shaped bead needs to be identical, and so do the small round ones in order to string the beads together and obtain the exact uniform semi-circle shape. Mine were individually shaped, less than perfect, and did not fit together well unfortunately. I'll need to make a mold from one of the more perfect beads in order to replicate this better.
The jaguar beads are glued onto a useful tray, a recycled film case that was paper mached then painted with acrylic, and it's as if a moment in time is recaptured, a moment when the original artist had beads on a surface, ready to be strung together. The refurbished tray is varnished, durable and useful. Hand wash gently with damp soapy cloth, and the crevices with a wet paintbrush, dabbing the area softly to absorb excess moisture.