Archive for January, 2007
Saturday, January 20th, 2007
Have you ever painted the walls in your house,  difficult it is to choose a shade of white, or come home with a can of paint based on a one by one inch splotch of color, only to find it's totally different. Why don't people have red living rooms, purple kitchens and bright  green foyers?  I still have reservations about using pure color on my canvases. Color makes you feel a certain way…colors or lack of them in our homes reflect the way we feel or want to feel.. Likewise, your Artwork; color is the most difficult thing to master .
Scared of Color was drawn with my new computer pen, using the Paint Shop Pro program. It's like learning to draw all over again.
Monday, January 15th, 2007
---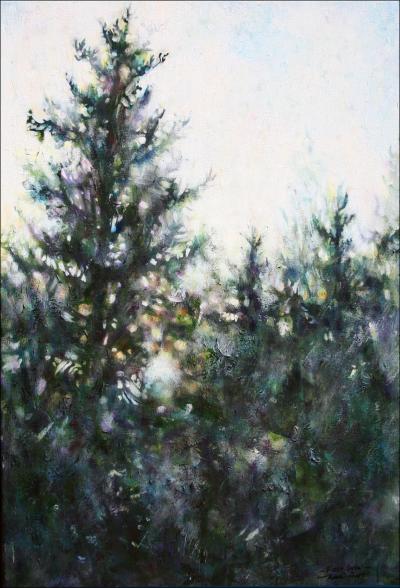 First Snow, 36H x 24W inches acrylics and crackle medium on canvas, work in progress
First Snow has many layers and blobs of paint. A damp cloth dipped in white was wiped lightly across the textured surface to create the effect of snow powder. Crackle medium also works well to help with the impression of snowfall. The scene is of tall Spruce trees in Calgary, Alberta where, on September 1st, the day I was to return to Dallas I awoke to a gentle snowfall and powder on the trees.