Archive for March, 2006
Thursday, March 30th, 2006
---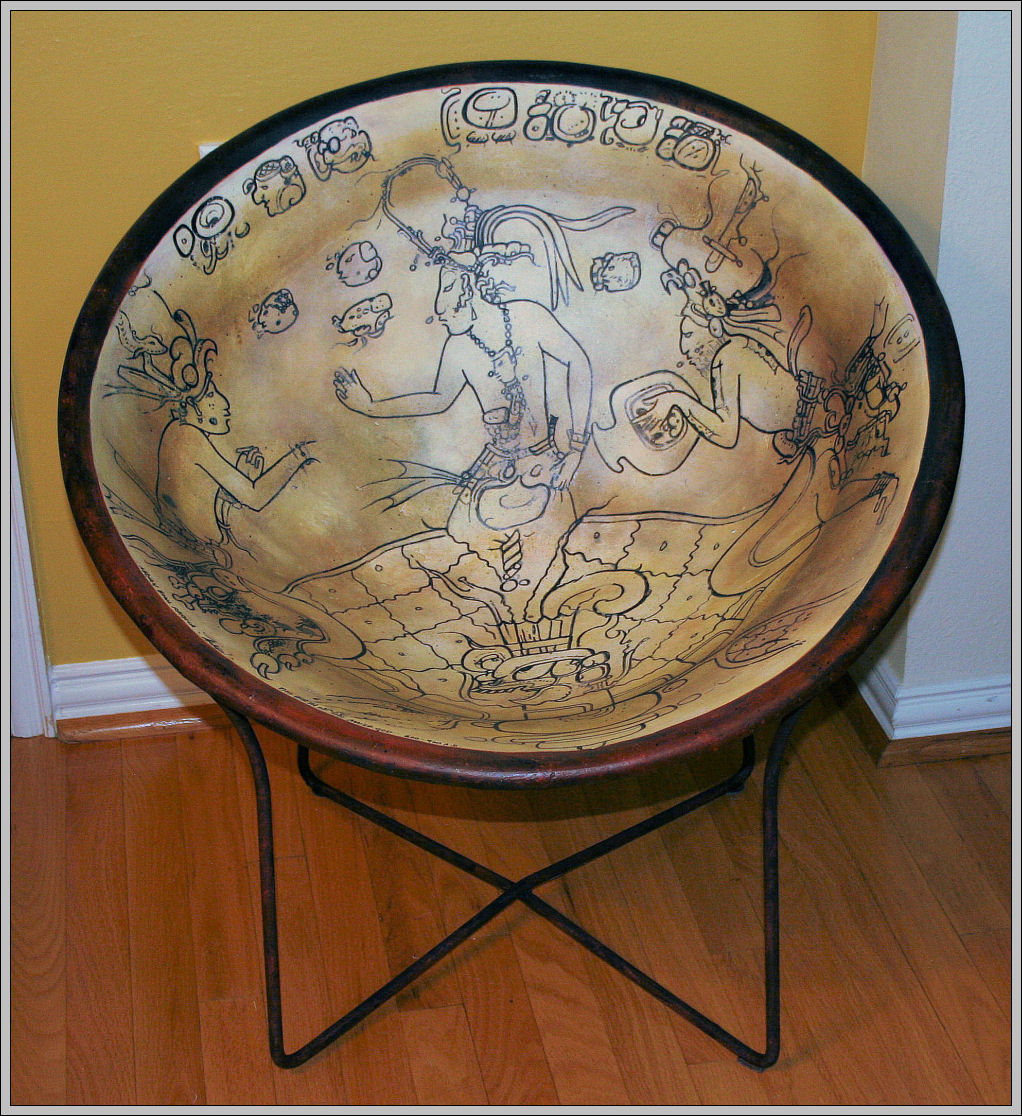 Mayan Bowl Replica Chair, 29H x 29W x 29D inches durable, functional, comfortable refurbished vintage 1960's plastic lawn chair, mixed media: woven canvas strips, plaster cured and painted, varnish and wax.
This replica of an ancient Mayan artifact re-utilizes a vintage plastic lawn chair that was considered Art in its own day. The refurbished chair was created by a process of weaving canvas strips and white glue paper-mache style over the entire plastic top and bottom, layering wall plaster sanded in between coats, acrylics paint, varnish, graphite, marker, more varnish, then waxed for durability. Three more chairs are yet to be created with historic Art themes from other cultures.
The original bowl design is from the Late Classic Period of Mayan history, 600 – 900 A.D. Common Era, portraying two water Gods witnessing the birth of the all-important Maize God who emerges from a turtle, symbol of the earth and origins thereof. Customarily, hieroglyphs written along the top rim show the bowl-owner's name and what the bowl was used for.
Inspirational resource: Maya, Divine Kings of the Rainforest edited by Nikolai Grube ISBN 3-8290-4150-0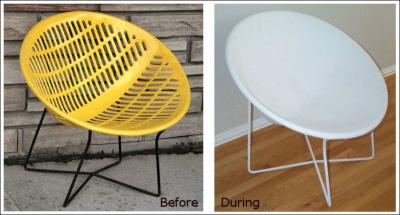 Post-dated notes: Accepted into Grand Prairie Arts Council Juried Exhibition and Sale Sept./Oct. 2007, and won Second Place cash award, 3D Category. Also accepted into Artjury.com's 2007 Fall/Winter Juried Online Exhibition.
---
$2,000.00            

---
Thursday, March 23rd, 2006
---
Bluebonnets Abstracts, set of four 3 x 4 inches oil pastels studies on paper.
These studies are based on Springtime scenery along Beltline Road in Irving, Texas three years ago. The amazing fields of Bluebonnets are now replaced by a major housing and commercial development. I can say, 'I was there when…'.
Wednesday, March 22nd, 2006
---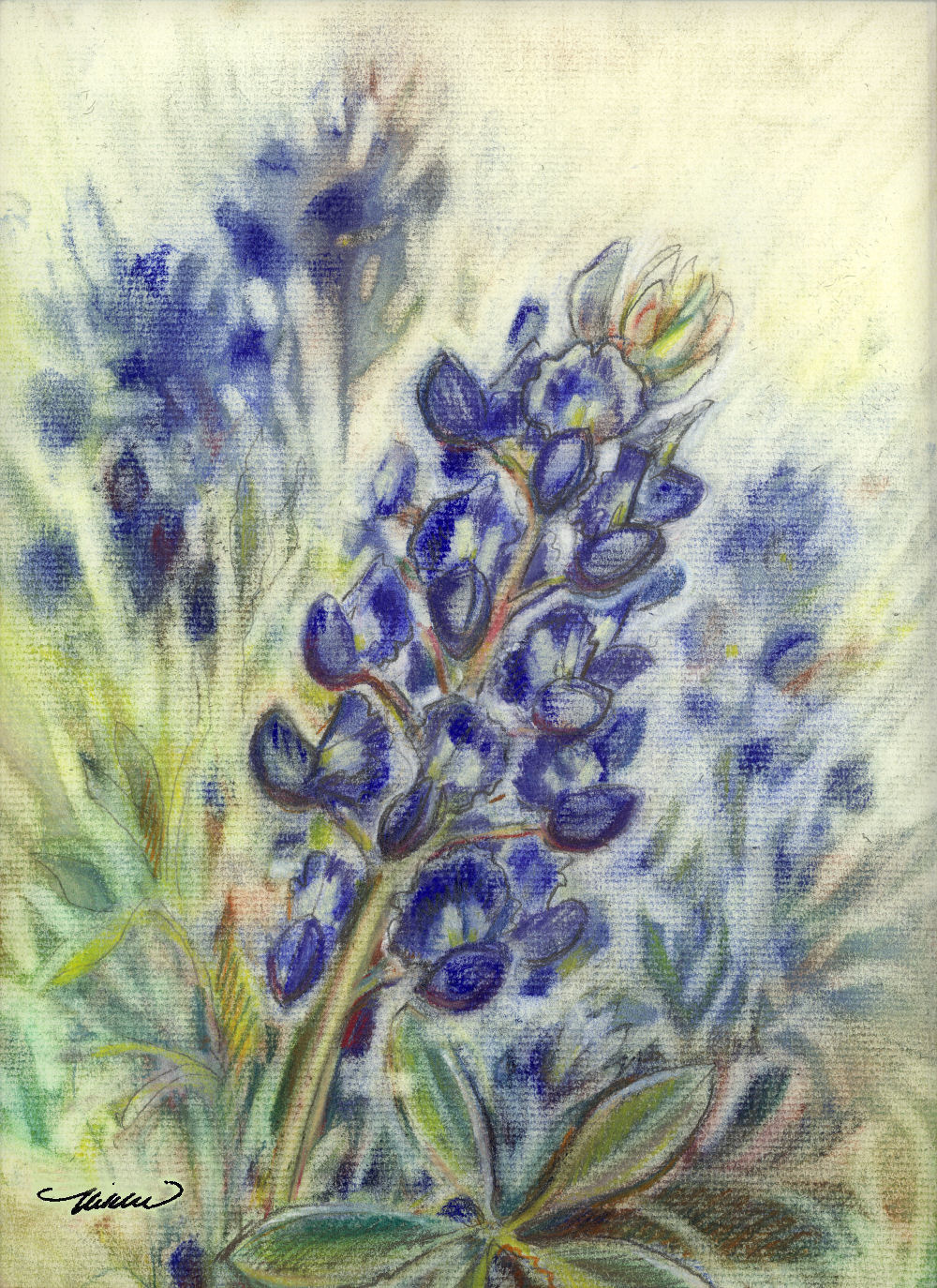 Texas Bluebonnets, 16H x 12W inches dry pastels on charcoal paper, off-white mat, 26H x 22W inch white custom wood frame with crackle finish
---
$350.00          

---
Monday, March 20th, 2006
---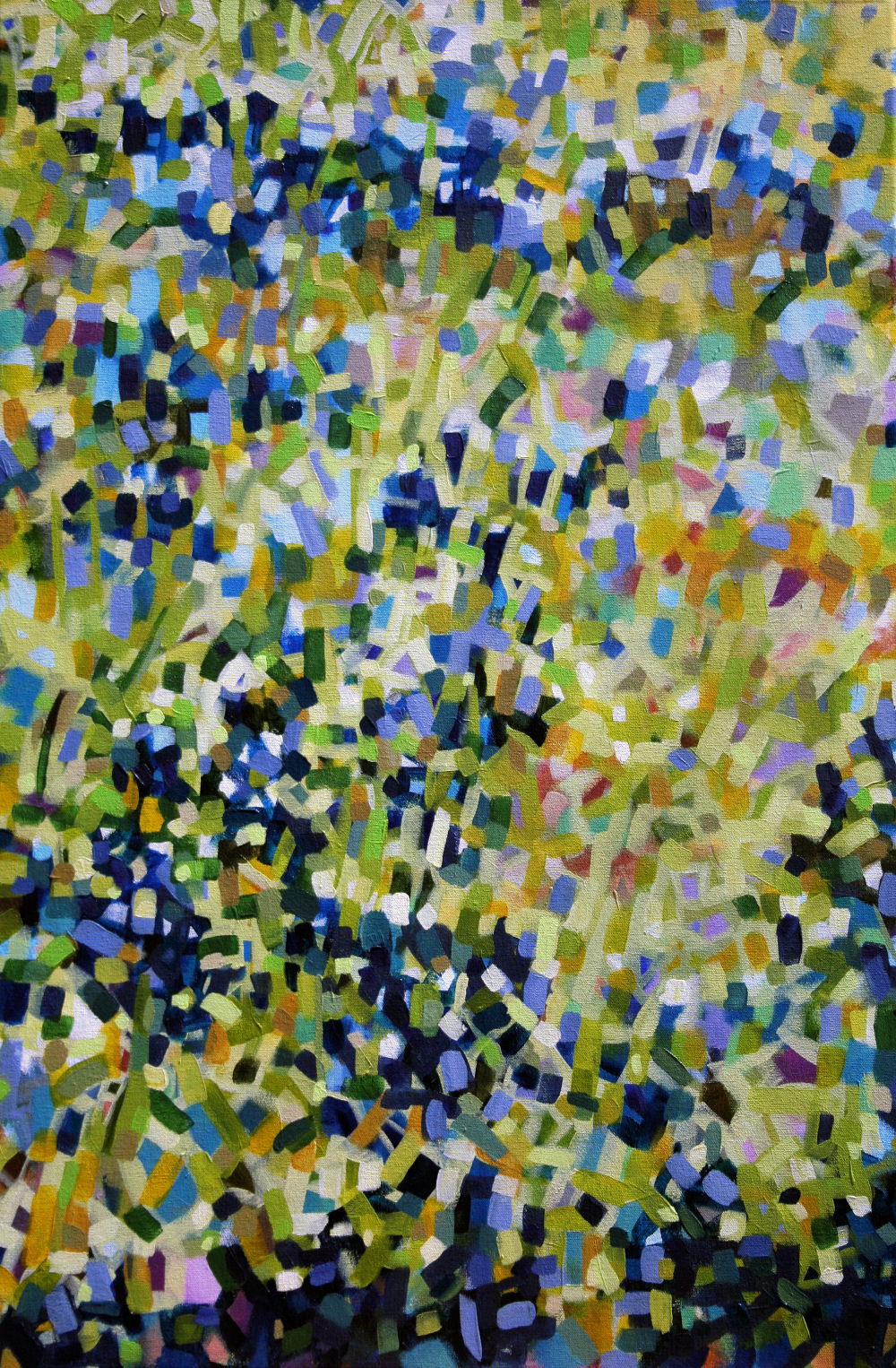 Bluebonnets Abstract, 36H x 24W inches acrylics on canvas, trim frame. I'm trying a new angle on the subject, and kept my glasses off for this one so I can see abstract better!
---
$200.00            

---
Saturday, March 18th, 2006
---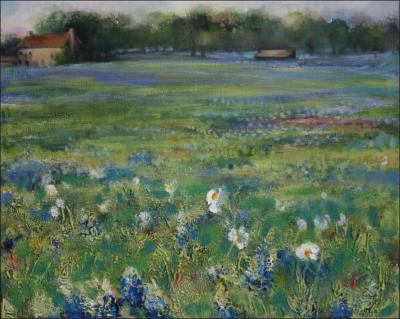 Bluebonnets, Marble Falls, Texas, 16 x 20 inches acrylics on canvas, framed. Donated to Engineers Without Borders.
One of the unexpected experiences with this painting was adapting to a small-sized, slippery store-bought canvas, whereas I'm most comfortable painting on large home-built frames at least 3 ft. wide with stretched with canvas that has more texture. Trying to find the right colors of blues and greens was also a bit of a challenge. The painting has been reworked many times; I scratched and scrubbed off days of work and began again many times. For that reason, it took over two years to complete. A few images of earlier stages:
Friday, March 10th, 2006
---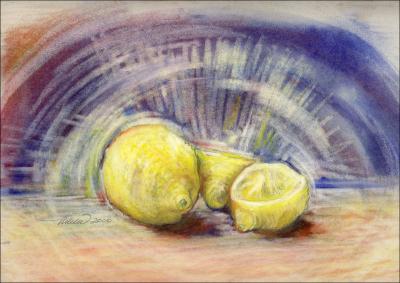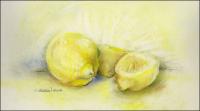 When Life Gives You Lemons, Draw Them, 11H x 14W inches dry pastels on charcoal paper, cream colored mat.
Left: the first version of the 'Lemons' still life was acceptable yesterday, but I felt the drawing did not have quite enough "zest", so took the drawing a little further, adding more color and marks.
---
$200.00            

---
Friday, March 3rd, 2006
---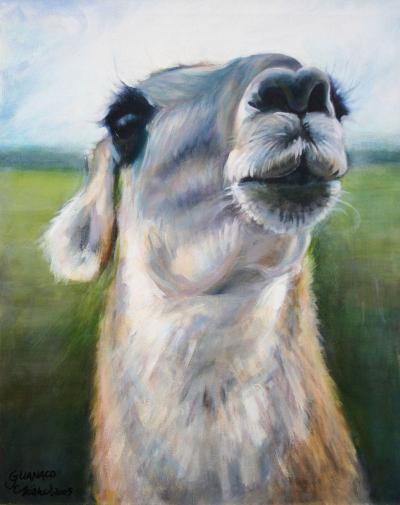 Guanaco, 20H x 20W inches acrylics on canvas, framed
The Guanaco, pronounced "won-a-co", is a member of the camel family and native to South America. This particular Guanaco greets visitors who drive through Fossil Rim Wildlife Park in Glenrose Texas.
---
$250.00            

---